Bengals QB Andy Dalton: I expect to be in Cincinnati for a long time
Bengals quarterback Andy Dalton said on Monday that he plans to be in Cincinnati for a 'long time.'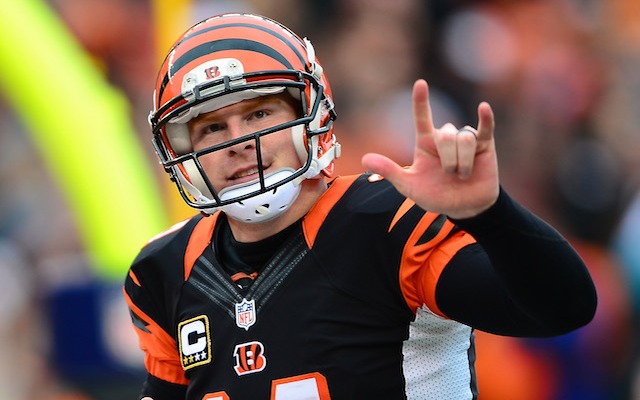 Since drafting Andy Dalton in 2011, the Cincinnati Bengals have made it to the playoffs three straight times, only to lose in the first round each time. If there's going to be a fourth, fifth or sixth straight loss -- or maybe even a win -- Dalton plans to be around for it. Dalton said Monday that he expects to be in Cincinnati for awhile. 
"I expect to be here a long time," Dalton said, via the Cincinnati Enquirer. "I'm hoping that is the case. I've got a good relationship with [coach Marvin Lewis], he's been telling me a lot of good stuff."
Dalton probably won't win any popularity contests in Cincinnati anytime soon, but that's not something Lewis will spend anytime worrying about. Bengals fans might not believe Dalton can lead the team to a playoff win, but Lewis believes it, according to Dalton. 
"He said I'm the guy he believes in and he believes I can get us over the next hump," Dalton said. "It's great to hear that from your coach and that's what I wanted to hear."
Dalton's been under fire for the past 24 hours after turning the ball over three times in the Bengals 27-10 wild-card loss to San Diego. Dalton's now 0-3 in the postseason and the third-year quarterback has thrown six interceptions and only one touchdown in those losses.
Despite Dalton's troubles, his teammates were quick to point out on Sunday that it's not just Dalton's fault that the Bengals lost.  
"Man, it's just not him," wide receiver A.J. Green said. "I could have made that play down the sidelines for him. It just happens. We're still young (and) still got a lot of football left to play. We thought we had the team to take it all the way. That's the biggest thing, man. These last two years, we were coming in feeling we were hoping to win; this game, we went in knowing we could have come out with a 'W' and that's the most frustrating thing: Knowing you had the game plan already and if you had just executed it, you know you would have come out with that W, but we didn't."
Dalton will almost certainly be the Bengals quarterback in 2014, but beyond that, it's up in the air. Dalton's rookie contract expires at the end of next season and at that point, the Bengals will have to decide if the 26-year-old really is the quarterback of the team's future. Or maybe Bengals owner Mike Brown can trade for Colin Kaepernick, the quarterback Brown said he wanted in the 2011 NFL Draft, before being talked out of it by offensive coordinator Jay Gruden. 
Here's an up-to-date look at the 2018 Pro Bowl roster

Bettors are favoring the Eagles to keep Super Bowl LII close, but the Patriots remain clear...

Here's everything you need to know about Super Bowl LII
Here's a look at the NFL's entire postseason schedule for 2018

Here's all the details you need to know on watching Super Bowl LII between the Patriots and...

All of the information you need to know about the 2018 Super Bowl