Bengals training camp: Is Dalton's chip enough to win Super Bowl?
Bengals QB Andy Dalton hears the criticism, especially in the wake of his $115M deal. Can he turn that motivation into a playoff (or even a Super Bowl) win?
More NFL: Photos | Videos & GIFs | Stories | Training Camps | Manziel watch
CINCINNATI -- As Andy Dalton settled into a seat for an interview, the bill of his baseball cap low on his head to almost cover his face, my video shooter asked him if he could tilt it up a bit to show more of his face.
I get the idea there are times Dalton likes wearing his hat that way so people can't see his face -- or his recognizable red hair.
When you are the quarterback of an NFL team, hiding at times is normal. When you are a quarterback of an NFL team, and fans and media take you apart in a blood sport of sorts, can you blame him?
Dalton signed a six­-year contract extension last week, and all anybody did was rip him to shreds. The numbers, after initial reports put the deal at $115 million setting off the frenzy, proved to be a fair deal for both sides. The initial reaction was outrage, but the reality is the Bengals could get out of the deal after a couple of years because it has some outs.
I read Dalton some of the highlights related to that contract. They were:
• Andy Dalton: An OK QB who just got $115 million
• The Bengals owner has lost his mind
He shrugged them off.
"Everyone has their own opinions," Dalton said. "But the only thing that matters is what this team believes, what this organization believes. I am going to be here for while."
The critics forget Dalton has won 30 games in three seasons and took the Bengals to the playoffs in each of those seasons. They forget that he has 80 touchdown passes, at least 20 in each of his first three seasons, joining Peyton Manning and Dan Marino as the only passers to accomplish that feat. They gloss over his 33 touchdown passes last season, which happened to be third best in the NFL -- behind Manning and Drew Brees.
All that matters to the doubters is this: 0-3 in the playoffs.
Quarterbacks, right or wrong, are defined by the postseason and Dalton hasn't been good. In three playoffs losses, he has thrown one touchdown pass and six interceptions.
Stories have popped up that he can't handle the pressure ­­-- not of the largeness of the game, but rather the kind in his face.
But let's be honest: Two of the games were on the road, one he played in as a rookie, against teams that were supposedly better than the Bengals. Only last season's loss to the Chargers at home would be considered a total failure on the part of the Bengals as a team and Dalton in particular. He didn't play well at all as San Diego upset Cincinnati at home 27-10.
"We are going do everything we can to win a playoff game," Dalton said. "That's the biggest thing hanging over our heads right now. It hurts for us as football players, as coaches and this organization to lose a playoff game. Then you hear everyone else saying they can't do it or they haven't done it. We win one, and get that out of the way.
"I mean it's a big part of it [defining quarterbacks]. I understand that there are a lot of really good quarterbacks who early on in their careers didn't win a playoff game. Peyton didn't win one his first three years. Matt Ryan didn't win one his first three years. Some others guys who haven't done it, too. It's a growing process."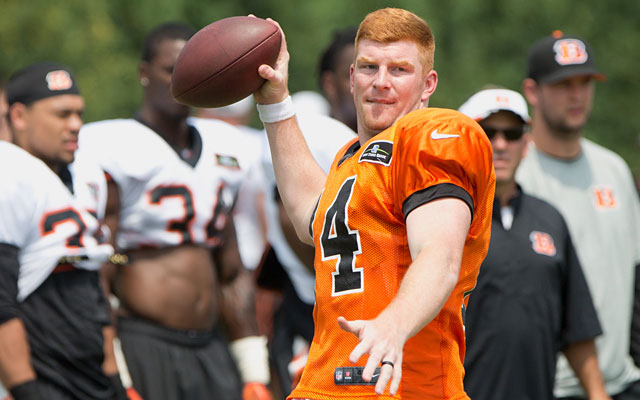 I might be one of the few who thinks Dalton is good enough to win a Super Bowl. Yet even as I settled in to do the interview with him in a room at Paul Brown Stadium, you could sense his angst over talking about the haters. Dalton, I've come to see, has a chip on his shoulder, something noticeable since he was a rookie, but it seems to be getting bigger by the year.
"I think it's a part of me," he said.
Hearing constantly that you aren't any good or you are just a guy can do that to a player. That's why his teammates have his back.
"Look at him in terms of wins and touchdown passes," veteran tackle Andrew Whitworth said. "He's right up there with the best quarterbacks who have played, but all anyone wants to see is a Super Bowl. Some of that is overblown. It's a team game. It's not just the quarterback. Teams win Super Bowls. Not individual players. Look at the quarterbacks you compare him to -- Ben Roethlisberger, Joe Flacco. Those teams were led by the defense. Seattle the same way ... New England early in Tom's [Brady] career. It's not just Andy here. He just needs to be stubborn about who he is and ignore people on the outside and know we have his back."
With new offensive coordinator Hue Jackson taking over for Jay Gruden, now the coach in Washington, there is a school of thought that Jackson's intense ways will pay off in making Dalton better, that he won't baby Dalton.
"Hue is kind of more in your face," Dalton admitted, adding he has no problem with the style.
"I haven't seen him flinch one time," Jackson said. "Not that he hasn't looked at me and said, 'Hey coach, what do you mean?' He's comfortable with where I am coming from. We have a talented group. To get to where they need to go, I have to stay on them."
Jackson will bring more of a physical style to the offense. The Bengals will pound it more and then go up top for big plays to A.J. Green. Gruden tended to throw it around more and some thought he called stuff just for the sake of trying to be creative.
But the notion that Jackson will scale things back to help Dalton is not true.
"Everybody says that, but I am not trying take anything off his plate," Jackson said. "We just paid this guy a lot of money. I want him to perform the way I think he can perform. He's one of the better players in this league. It's not about taking anything away form him. It's about helping him do the things he needs to do better than he's done them."
First and foremost, that means winning a playoff game.
"That's the way it is," Bengals coach Marvin Lewis said. "Quarterbacks are graded on what they do in the postseason. We, as a team, haven't played well in the playoffs. It's not just him. We need to find a way to win one and then it will stop."
I asked Dalton what people would be saying about him five years down the road as he's coming to the end of his new deal.
"Hopefully, they say I am one of the best in the league," he said. "We have guys who can get me there. Hopefully, that's what people are saying."
If they are, the bill of the cap might not hang nearly as low.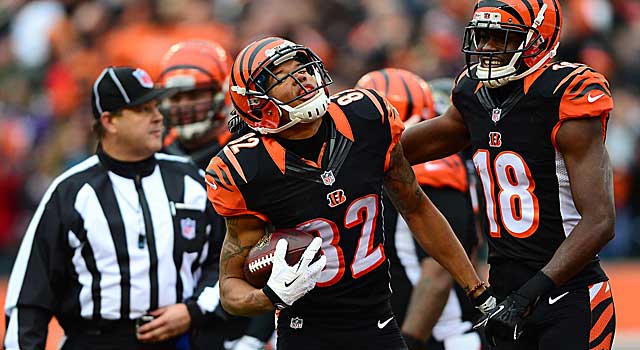 Loss of WR Jones hurts offense
The loss of receiver Marvin Jones with a broken bone in his foot is a big hit for the offense. Jones caught 51 passes for 710 yards and 10 touchdowns last season. He and Green were one of three tandems to catch 50 passes and average 14.0 or more yards per catch. The other two were on Super Bowl teams. That tells you how important Jones was to the offense.
He really came on in the second half after becoming a starter, taking the job from Mohamed Sanu. Jones opened this summer's camp missing time with an ankle injury and had only been cleared for a couple of days before suffering the broken bone that is expected to keep him out up to eight weeks.
"Next man up," Jackson said. "You can't worry about the people that aren't here. You want him. I'm not saying that I don't. Marvin Jones is a huge part of what we do. But at the same time, I can't worry about that. I've got to take the guys we have and get them ready to play at a high level."
Sanu, who caught 47 passes last season, has had a good camp. The team will also use more double-tight sets with Jermaine Gresham and Tyler Eifert. Gresham did some good things in Tuesday's practices, catching some nice passes down the field.
The Bengals have a bye in the fourth week, so the feeling around the building is that Jones could be back for Week 5. The tricky thing when he returns is keeping from it happening again.
More camp observations
Bengals coaches are excited to have linebacker Emmanuel Lamur back healthy. They expected big things from Lamur last season, but he suffered a season-ending shoulder injury in the preseason. Lamur is a tall, lanky linebacker who can run. He will start on the weakside, but he will also be a big part of what the Bengals do on third down. Linebackers who can run are especially valuable with the spread passing games we now see. ... Defensive tackle Geno Atkins is still not working in practice as he recovers from a torn ACL, but he seemed to be moving pretty well on a side field during work Tuesday. The Bengals expect him to be ready for the opener, and that's huge considering he's one of the best defensive tackles in the league. Brandon Thompson is a player inside who the coaches have raved about. He has really grown as a player. ... Rookie center Russell Bodine is running with the first team and players and coaches say he has done a good job from a physical standpoint, but the mental side has been a challenge early on, which can be expected. But he is much more physical inside than what Kyle Cook was last season, which should help the run game.
It wasn't the matchup that we expected, but the Jaguars would argue that's everyone else's...

CBS All Access allows viewers to stream every NFL game on CBS in their local market

SportsLine's Mike McClure, a DFS pro with more than $1M in winnings, gives optimal lineup...
Check here for the latest news, rumors and updates for NFL coaching changes and searches

The Titans have tapped Texans defensive coordinator Mike Vrabel to take over as head coach

The government shutdown has come at a horrible time for NFL fans in the U.S. military