Best days of Marshawn Lynch's life: Being born, winning Super Bowl
Winning the Super Bowl didn't make Sunday the best day of Marshawn Lynch's life, but it's a close No. 2.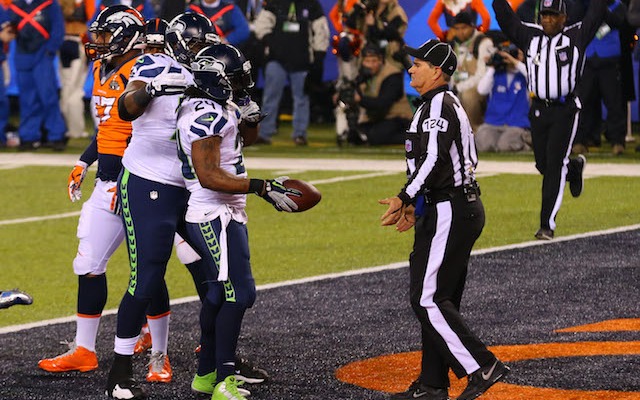 More SB coverage: Seahawks win, 43-8 | Photos | Numbers | More news
Seahawks running back Marshawn Lynch didn't have much to say to the media in the week leading up to the Super Bowl, so it shouldn't come as a big surprise that he didn't have much to say after the game. 
Lynch kept his postgame press conference to a concise 45 words, but we did learn a few things about him. For instance, Lynch was asked if Sunday's 43-8 Super Bowl victory against the Broncos was the best day of his life.
"Next to being born," Lynch said. "Dream come true."
Beast Mode was also pretty excited about scoring the game's first touchdown, a 1-yard run in the second quarter that gave Seattle a 15-0 lead. "Kicked it all off, boss," Lynch said. 
After the game, Lynch was one of the few Seahawks players -- actually, probably the only one -- who didn't celebrate on the field. That's normal for Lynch, though. "They know who I feel about it," Lynch said. "This has been a tradition since I came, since forever. It's just what I do. Everybody knows it. They respect it."
In his first Super Bowl appearance ever, Lynch finished with 39 yards and a touchdown on 15 carries. Now Lynch just needs to hope that when he gets back to Seattle, the city's Skittles crisis will be over. 
The Ravens and Jaguars head across to pond to play an early-morning game in Wembley Stadiu...

It appears that Darrelle Revis is one of the NFL's most popular free agents right now

The former Bills coach had harsh words for President Trump: 'I never signed up for that'
The NFL could be in for a historic day on Sunday in the wake of Trump's remarks

Robert Kraft was 'deeply disappointed' in comments made by Donald Trump

Everything you need to know heading into Week 1 is right here