Best of the rest: NFL rookies who went undrafted but not unnoticed
With salary cap restrictions, an undrafted free agent can provide some needed relief, and these seven players figure to do just that.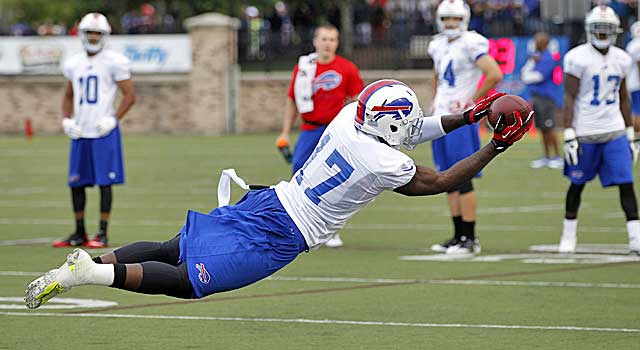 As I complete my annual summer camp tour and review my notes from all the practices, interviews and videos, it's always fun to look at the undrafted rookies that are making a statement in their first camp.
They show up, like college walk-ons, camp bodies to fill out the 90-man roster, be part of the scout team, hold bags during drills and probably not even being asked to sing their college fight songs for veterans because no one thinks they will make the team.
These guys weren't paying attention to hurdles in the way. They never thought it's too much of a long shot to fulfill their dream of making an NFL team.
I have a special place in my heart for guys who defy odds and make it. I signed Wayne Chrebet back in the day when no one thought the 5-foot-10 kid from Hofstra had a chance. The rest is history.
With the salary cap so restrictive for many clubs, they need undrafted rookies to hit the one-in-a-hundred shot and be a team contributor. The presence of an undrafted rookie does more to offset a big veteran contract than any other single player on the roster.
As I traveled around the camp tour I was reminded of the some undrafted guys having nice careers: Alex Boone from Ohio State starting for the 49ers, Steve McLendon starting at nose tackle for the Steelers, Ramon Foster starting at guard for the Steelers, Tashon Gibson starting at safety for Cleveland, Ian Williams now the nose tackle for the 49ers and Duke Ihenacho fighting for the starting strong safety spot in Denver in his second season.
This year was no different. Seven undrafted guys really jump out at me. Don't look at a depth chart, because they are still stuck in the back. Don't ask any scouts why they weren't drafted late in the seventh round, because you won't get a good answer.
But they're competing, with a chip on their shoulder, and I think all seven will make a 2013 roster.
1. RB Dennis Johnson (Arkansas), Texans: Great return skills and much better RB skills than you may think. He makes guys miss and can drop his shoulder and play bigger than his 5-foot-9, 210-pound body says he should.
2. OLB Willie Jefferson (Stephen F. Austin), Texans: Jefferson has natural bend, flexibility and explosion off a block. He's a better pass rusher than most of the drafted rookies at his position. At slightly over 6-5 and now close to 245 pounds, he's a real find.
3. WR Da'Rick Rogers (Tennessee Tech), Bills: He wasn't because of off-field problems but has first-round talent. He made a few catches in front of me that were spectacular. If he is released he will be claimed within seconds.
4. TE Zach Sudfeld (Nevada), Patriots: The Patriots have tight end issues. Sudfeld is benefiting from the extra time and delivering. The 6-6, 250-pounder can play from the slot or at H-back and will be a factor.
5. RB C.J. Anderson (California), Broncos: Anderson is a 5-8, 225-pound fireplug who is sudden with good change of direction and is turning heads in Denver. He will not clear waivers if the club tries to get him to the practice squad. Anderson sprained his knee this week and will miss a few weeks recovering, but remains in the mix.
6. WR Lamaar Thomas (New Mexico), Broncos: Anytime Peyton Manning sits down to talk football with me and says he's impressed with an undrafted rookie I take notice. Thomas can run routes and looks like he can make things happen after the catch.
7. QB Matt McGloin (Penn State), Raiders: Maybe it's the lack of talent at QB on this roster but McGloin, a former college walk-on, impressed when I've seen him. People in the Bay Area were excited about him when I was out there.
The Falcons won't be making a change at offensive coordinator after a disappointing season

SportsLine's Mike McClure, a DFS pro with more than $1M in winnings, gives optimal lineup...

SportsLine's top NFL experts give their top picks for Patiots-Jaguars and Eagles-Vikings
Campbell was already talking about a potential Super Bowl berth shortly after his signing

The study, published on Thursday, found that even at younger levels football can be danger...

The Eagles and Vikings have two of the best defensive fronts in the NFL