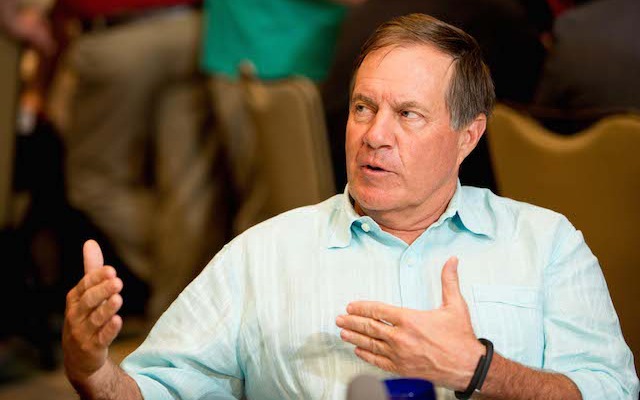 Draft coverage: Draft picks and grades | Prospect Rankings | Mock drafts | News
Less than 24 hours after Johnny Manziel was drafted by the Cleveland Browns on Thursday, a website called BroBible.com published what was purported to be a leaked scouting report on Johnny Football. The report supposedly came from the Patriots and was filled with a lot of negative things. 
For instance, the report said that Manziel was 'spoiled' and 'doesn't study the game.'
Everything has been pretty well-documented in online articles about the kid, but sources say he's a spoiled brat (grandfather gives him allowance, father bought him luxury car).

Doesn't study the game, said to know about 60% of the offense in '12, never watches film; one source said only time he watched film during '12 was before ALUN.
The report wasn't all negative though, it did mention that Manziel has "High, knotted calves, with pretty good thickness through the thighs and bubble." It also said that he has "big hands and feet." So that's a plus. 
The only problem with the scouting report is that it came from a site not exactly known for publishing leaked scouting reports. So did BroBible.com somehow get its hands on a real report?
Patriots coach Bill Belichick was asked about the situation on Friday night and issued the most Belichickian non-denial, denial that you'll ever read. In short, he doesn't confirm or deny if the 'Manziel Report' actually came from his team.  
"With all due respect, I hate to admit this but I don't think I've been online in a couple days or weeks or whatever, so that's not really an important thing to me. I don't even know what's online and what isn't online," Belichick said. "But I would say we probably have, I can't even imagine, 10,000 pages of information. It's a lot of information. There's no way I can sit up here and tell you that I've read it all. I've read a fraction of it. But we have a ton of information on all the players that are in the draft. What's online, you should go talk to the geniuses that are online. I don't know. MyFace, YourFace, InstantFace. Go talk to whoever you want that does that stuff. I don't know."
So basically, the answer lies somewhere on MyFace, YourFace and InstantFace, we just have to find it.