Bill Belichick: Rob Gronkowski's ability to play this week still up in air
Rob Gronkowski says he'll play this week. Bill Belichick isn't so sure about that.
• 2 min read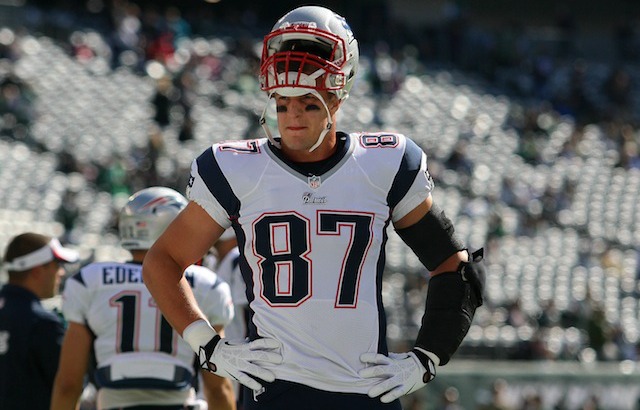 The Patriots kingdom must have rejoiced when tight end Rob Gronkowski declared on Monday that "I'm ready to go. I'll be playing" in Week 1.
Luckily for all the killjoys out there, coach Bill Belichick was around Tuesday to refute that report, saying a decision on Gronkowski's status has not yet been made.
"I'm glad that Rob's optimistic about his situation," Belichick told reporters. "With all due respect to Rob, I'm glad he feels the way he does, but in the end, we'll have to make the decision that we feel is best for the team and we'll do that as we go through the week."
Even if Gronkowski doesn't play this week, his rehab stint from a torn ACL has been nothing short of impressive, considering it's taken him about nine months to go from this to being ready to play (at least in his own mind).
To be fair, Gronkowski said he probably wouldn't take every snap this week but that he wanted to "just get out there, get my feet wet."
Instead, the fact he couldn't participate in preseason games might make it more difficult for Belichick (or the team's trainers) to play him in Week 1. That's what Belichick was implying when he had this rather insightful answer about how difficult it is to go into a game situation without having actually played in a preseason game.
"A player hasn't played in preseason, there's still game speed and game situations and all the communication that goes on in the game," he said. "That's just different in practice. You have to be ready to handle that and work with your teammates in those conditions and that kind of timeframe and those type of game situations that change so fluidly. ... Your mind has to transfer situations and transfer them very quickly because every play takes on a new down and distance or possibly field position.
"Players that aren't in the game need to be able to have that time on the sideline to make adjustments and be ready to anticipate things that are going to happen the next series and all that. You don't get good at those things with your teammates without being able to do them. It takes some time. Guys that don't play have to make that ground up."
All of which leads me to believe this: Gronkowski will play Sunday and probably play quite a few snaps.
An example of how not to use social media

Mike McClure, a DFS pro with more than $1M in winnings, gives optimal DraftKings and FanDuel...

Let's check in on the Giants a day after their loss to the Lions
Mike McClure has made over $1 million playing DFS and gives his best daily fantasy football...

The veteran linebacker is the franchise's all-time leader in sacks

It's unclear when Timmons, a free-agent signing in the offseason, will make his Dolphins d...