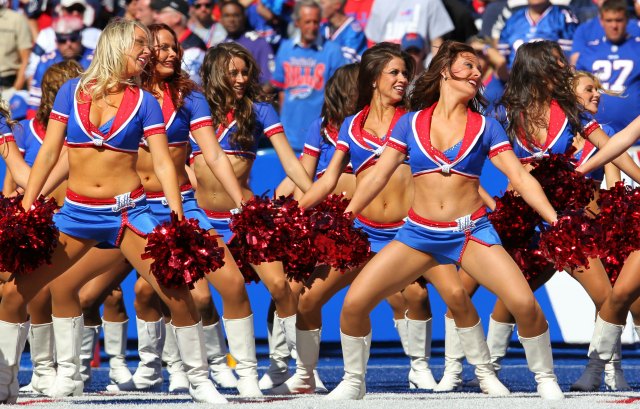 First, the Raiderettes sued the Raiders after alleging the team engaged in wage theft and unfair employment practices, and then, the Ben-Gals sued the Bengals for paying under minimum wage.
Now, via Deadspin, the Jills have filed a lawsuit against the Bills, the Citadel Communications Company and  Stejons Productions Corporation in which the cheerleaders claim they weren't paid for game days or mandatory biweekly practices and, instead, were exploited by not being paid minimum wage.
The lawsuit states that the defendents were "in flagrant violation of numerous laws of the State of New York, exploited plaintiffs, who worked for them as members of the Bills' cheerleading squad, by failing to pay them for all hours they worked each season. The Bills, Citadel and Stejon also failed to reimburse the Jills for certain business expenses, failed to pay them in a timely manner, took unlawful deductions and kick-backs from the Jills wages, unlawfully took gratuities paid to the Jills, failed to adhere to the notice and record keeping requirements of the Wage Theft Prevention Act, and were unjustly enriched as a result of the Jills' work."
The plaintiffs also say the team's members are required to make between 20-35 appearances at corporate, community and charity events per year (along with six mandatory events that did not count toward those first 20-35). The majority of those, the lawsuit says, were unpaid.
The cheerleaders also could be subject to penalties for a variety of offenses, including "failing the 'jiggle test.'"
In an interesting twist, the lawsuit also discusses the team's expectations for the cheerleaders' grooming habits and hygiene. Particularly, the team wanted to make sure the Jills were washing themselves properly while taking appropriate measures for menstruation and shaving. Make sure to check out this Slate article if you'd like the details.
So, that's three teams out of the 32 that have been sued thus far. At this point, it wouldn't exactly be a surprise if we see more of these kinds of lawsuits.