Bills coach Doug Marrone: Barring setback, EJ Manuel will start at QB
Bills coach Doug Marrone said on Thursday that unless there's a setback, EJ Manuel will be Buffalo's starting quarterback in Pittsburgh on Sunday.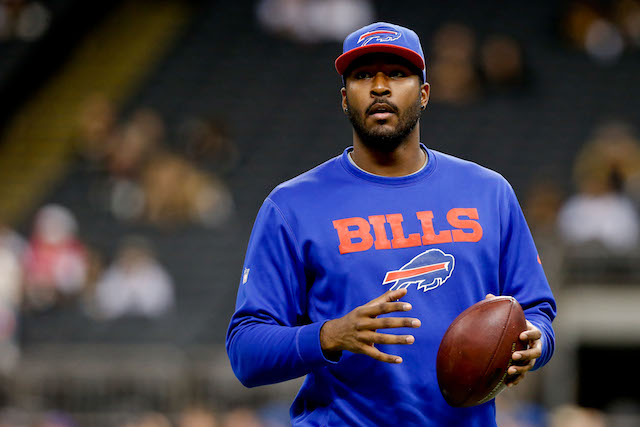 Five and a half weeks after injuring his right knee, Bills quarterback EJ Manuel is set to return. Buffalo coach Doug Marrone said on Thursday that 'barring any setbacks' Manuel will be the Bills starter on Sunday in Pittsburgh. 
"EJ coming back today wasn't sore or anything and that's what we were waiting for," Marrone said on Thursday, via the Bills official website. "He took the majority of snaps in practice, so barring any setbacks, I'm planning on him going."
Manuel hasn't played since spraining his LCL in a 37-24 loss to the Browns in Week 5. Since Manuel's injury, the Bills have started two quarterbacks -- Thad Lewis and Jeff Tuel -- and gone 1-3. 
After practice on Wednesday, Manuel sounded pretty confident about his chances of starting against the Steelers. 
"It felt pretty good," Manuel said of his knee, following Wednesday's practice. "I was able to get out there with the one's for a lot of reps and it felt good. I definitely feel like I can go, I feel confident going into Sunday. I was pushing off on it fine, and running around making plays. I expect to go back in and make plays."
Making plays against the Steelers won't be easy, at least it usually isn't for rookie quarterbacks. Since 2004, Pittsburgh is an NFL-best 16-2 against teams with a rookie quarterback under center. 
The Pro Football Hall of Fame is one step closer to announcing the Class of 2018

Grab some turkey and get ready for this NFC North showdown

SportsLine's top NFL and college football experts pick a 4-team parlay that pays 10/1
After an epic collapse against the Saints, the Redskins are hoping to right the ship

Brice Irvin is not a happy camper right now

Linda Del Rio is not happy with the president