Bills contact NFL to express 'disappointment' with schedule
The Bills are 'disappointed' with the way the NFL schedule is setup and the team contacted the NFL about the issue this week.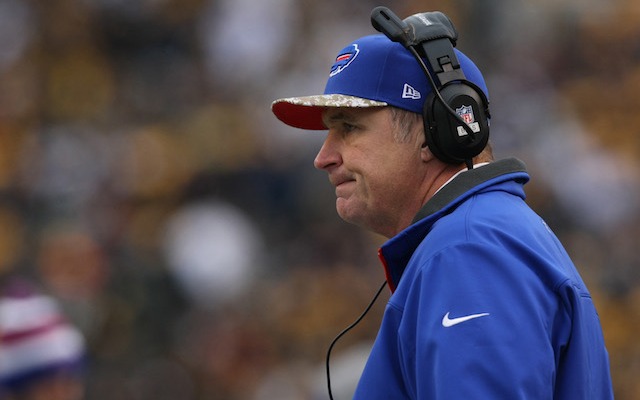 The Buffalo Bills don't think the NFL schedule is set up fairly and the team let the league know it this week. At issue is the amount of games the Bills have played this season against teams that get extended rest before they play the Bills.
For instance, the Bills are playing the Jets on Sunday with the Jets coming off a bye week. In Week 3, the Bills played a Jets team coming off a Thursday night game, meaning the Jets got three extra days to prepare for Buffalo.
The Bills will play a total of six games this season against teams that will get extended rest before playing Buffalo. The Falcons are the only other team in the NFL that play more than three games against opponents coming off extended rest, Atlanta plays four of those games. 
The subject of the Bills scheduling disadvantage came up over the summer, but the team didn't formally contact the league about it until this week. Bills president Russ Brandon called the schedule 'disappointing.' 
"We certainly have talked to the league about this because it's been disappointing where teams are coming off a bye or a long week," Brandon told WGR-AM in Buffalo, via Bills.com. "This [Sunday] is the second time we're playing the Jets coming off a Thursday night game and now we're playing them coming off a bye. We lead the league in amount of games coming off of extra time or a bye week. It is a very, very tough job what they have in scheduling with all the different things that go into the formula and the stadium commitments and TV schedules, but it's certainly something that needs to be addressed." 
Coach Doug Marrone was asked on Wednesday if he thought the Bills schedule put the team at a disadvantage and he offered a simple, "I do." 
"I think the biggest thing in this league, the one thing that helps you the most, is rest," Marrone said. 
The Bills are 1-3 this season against teams that got extra time to prepare with games still to play against the Jets on Sunday and the Jaguars in Week 15. 
The Patriots quarterback shows commitment from Day One

Cardinals' running back says he's feeling more energized

The Vikings' receiver is wearing his heart on his foot
The Ravens need help on the offensive line after dealing with injuries and a surprise reti...

The new Dolphins quarterback offered high praise for his receiver after his first preseason...

LeSean McCoy was probably a pretty popular person in the Bills locker room on Thursday