Bills file motion to dismiss cheerleader lawsuit
The Jills, the Buffalo franchise's cheerleaders, are suing the Bills. The Bills want it dismissed.
• 1 min read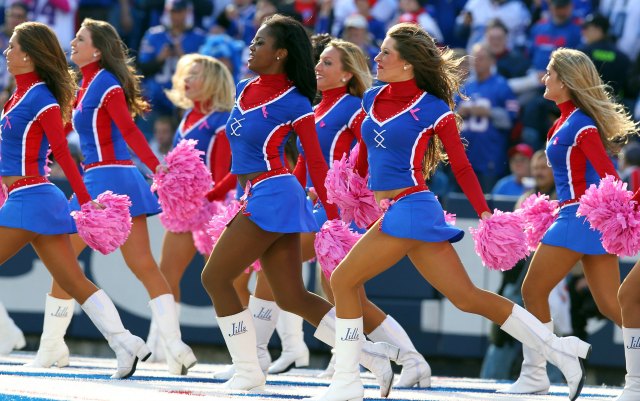 The cheerleading squads of four NFL teams have sued their employers, mostly for unfair employment practices or failing to pay minimum wage. That includes the cheerleading squads from the Raiders, Bengals, Jets and the Bills -- whose members also have said that they could be punished for a variety of offenses, including "failing the 'jiggle test."
Now, the Bills have responded by filing a motion to dismiss the lawsuit.
Said the team in a statement released Wednesday: "Buffalo Bills fans have long appreciated the Buffalo Jills cheerleaders as a part of the game day entertainment. Additionally, our organization recognizes the significant contribution that members of the Buffalo Jills have played in supporting many charitable organizations in our community. As part of running a professional football team, the Bills organization retains a number of third party vendors to provide ancillary services on game days. These services include, among others, parking services, concessionaire services and cheerleading services. For decades the Buffalo Jills trademark has been licensed to independent third parties who have assumed the responsibility for the selection, management, training, scheduling and compensation of the cheerleaders.
"We are aware of public statements and allegations that have surfaced since the start of the recent litigation which attempt to give the impression that our organization employs cheerleaders. Such statements are inaccurate and misleading. Today we responded to these allegations as part of the legal process and remain confident in our position in this matter."
All activities for the Jills have currently been suspended.
The longtime Bengals coach and the team are planning to part ways after the season ends

Everything you need to know heading into Week 15 is right here

Haden has been out since Week 10 with a fractured fibula
There's also the possibility Goodell steps aside early if his potential successor is progressing...

The league could return to its pre-2009 policy after a year in which pregame protests took...

Arians hasn't said he's retiring, but the team has discussed contingencies for a coaching...