Bills LB Brandon Spikes loses NCAA tournament bet to fan on Twitter
Bills linebacker Brandon Spikes owes a fan tickets to a game next season after losing an NCAA tournament bet on Twitter.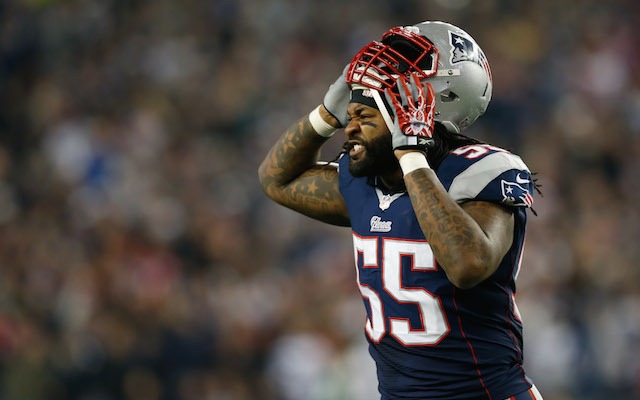 If there's one important lesson NFL players have learned so far during the NCAA tournament, it's this: Don't make bets with fans on Twitter.
Falcons wide receiver Roddy White learned that the hard way when he tweeted to a fan that if Mercer beat Duke, he'd buy the fan seasons tickets. Well, Mercer did beat Duke, but White decided to not go through with the season tickets, instead, he's giving the fan tickets to the Bears-Falcons game next season. 
The Twitter bets didn't stop there though, Bills linebacker Brandon Spikes also got in on the action. Spikes sent out a tweet on Saturday night saying that Villanova would beat Connecticut. And we're not just talking a beating here, we're talking a trashing. 
Uconn about to get trashed!! Watch. ?

— BrandonSpikes51 (@BrandonSpikes51) March 23, 2014
A fan on Twitter, taking a page from the Roddy White incident, quickly tweeted Spikes and offered him a bet. 
"@MJAfonso: @BrandonSpikes51 I bet you tickets to the bills patriots game in NE , that Uconn wins by atleast 7" deal if they lose tho ? ?

— BrandonSpikes51 (@BrandonSpikes51) March 23, 2014
Spikes accepted the bet immediately and to be honest, any gambler alive would have probably taken this bet. Villanova was favored by four going into the game.
This bet was also slightly different from the Roddy White bet because in this bet, the fan actually had something to lose. The Patriots fan said he would buy a Spikes Bills jersey if he lost the bet and wear it to the Bills-Patriots game in New England.
Spikes spent four seasons with the Patriots before signing with the Bills in March. 
"@MJAfonso: @BrandonSpikes51 If they lose, I'll buy tickets to the game myself and wear your bills jersey….?" My man !! Exactly wat I wanted

— BrandonSpikes51 (@BrandonSpikes51) March 23, 2014
The fan, Matt Afonso, needed UConn to win by at least seven points, the Huskies won by 12. Even better for the fan, it sounds like Spikes is going to pay off the bet. 
"@MJAfonso: @BrandonSpikes51 Should I send you my address now?, I'll still buy that jersey though" they'll be @ will call sir ! Good game ?

— BrandonSpikes51 (@BrandonSpikes51) March 23, 2014
But if for some reason Spikes decides he doesn't want to pay off the bet, he can always go the Roddy White route and play this card. White said he wasn't giving the fan season tickets because it's illegal to gamble. 
Plus it's illegal to gamble in the NFL

— Roddy White (@roddywhiteTV) March 23, 2014
Spikes can blame Roddy White for his betting loss because it was White's Twitter meltdown that inspired the latest NCAA tournament bet. 
"I saw that [White] bet and right when I saw (Spike's) Villanova tweet, I said let me see if I can get the same luck as that guy," Afonso told the South Coast (Mass.) Today. "I wasn't expecting him to tweet back. I was pretty pumped."
Roger Goodell probably isn't pumped about this though. There probably won't be too many more Twitter bets over the final two weekends of the NCAA tournament. 
The Dolphins also donated $100,000 to the victims' fund after the school shooting that killed...

The Cardinals GM explains his process for finding Carson Palmer's successor

Stefen Wisniewski narrowly missed out on a chance to earn $250K, but the Eagles gave it to...
Shazier heads into the Steelers' facility every day and helps with 'personnel stuff'

Foles's life has completely changed by leading the Eagles to a win over the Patriots in Super...

For all of the attention Patrick Mahomes will receive, fixing the defense has to be Kansas...