Bills LB Brandon Spikes: Someone should 'choke out' Ray Rice
After hearing that Ray Rice got married, Brandon Spikes took to Twitter and said that someone should choke Rice out.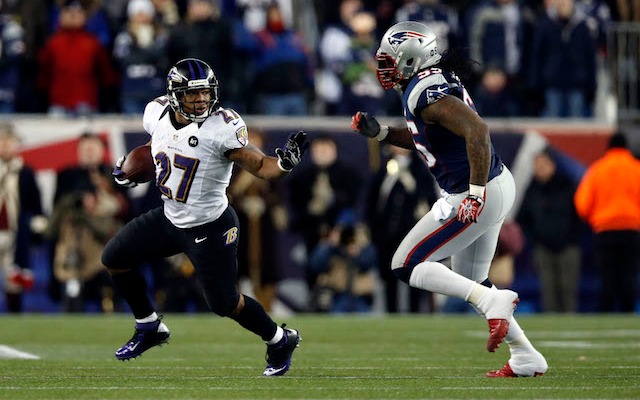 Newlywed Ray Rice probably shouldn't be expecting a congratulatory card from Bills linebacker Brandon Spikes anytime soon. Rice and his fiancee, Janay Palmer, were married on Friday in a ceremony that had been planned for a couple of weeks.  
Spikes heard about Rice's nuptials on Saturday morning from our own Pete Prisco. 
"@PriscoCBS: Wait, Ray Rice got married Friday night. Are you kidding. To the same woman?" Wowzersssss

— BrandonSpikes51 (@BrandonSpikes51) March 29, 2014
After hearing the news, Spikes went off. 
I don't see how anyone can respect him. Put your hands on a woman. The woman that had ur child ??? #EyeContact

— BrandonSpikes51 (@BrandonSpikes51) March 29, 2014
The problem for Spikes is that Rice allegedly hit a woman. Rice was indicted on a third-degree aggravated assault charge on Thursday stemming from an incident on Feb. 15 where he allegedly hit Palmer and knocked her unconscious. Rice isn't the only one facing charges, Palmer was charged with simple assault-domestic violence. 
So what should happen to Rice? Spikes has a suggestion.
Someone should choke him out. See how he likes it.

— BrandonSpikes51 (@BrandonSpikes51) March 29, 2014
Rice's attorney, Michael Diamondstein, has maintained that neither Rice or Palmer wishes to move forward with the case
"We deny Ray Rice committed aggravated assault. Neither Ray nor (his fiancée) Janay Palmer wish to prosecute the matter. Ray and Janay are together. They're happy, and they're in counseling," Diamondstein said. "We believe that as a matter of law that Ray Rice did not commit aggravated assault. We ask only that the public reserve judgment until all the facts come to light." 
When I saw the video, I kinda got MADD a lil bit smh

— BrandonSpikes51 (@BrandonSpikes51) March 29, 2014
Here's the security video from Revel Casino in Atlantic City that Spikes mentions in his tweet. Rice could face three to five years in prison if he's convicted on the one charge.
The former Buccaneers kicker did not have things start well for him in Chicago

Bears special teams showed up in a big way against Arizona

Beast Mode got loose with Oakland and looked pretty impressive in the early going
Beast Mode was one of several players to sit during the Raiders-Rams game

The cleaning staff in Houston missed a couple of things while cleaning up after Super Bowl...

Marvin Jones had some serious fun in the end zone after scoring against the Jets