Bills Observations: Prepared rookie Manuel looks to get nod at QB
Veteran Kevin Kolb and rookie EJ Manuel battle at QB. At camp, Pat Kirwan says Manuel has the ability and poise to win the Week 1 job.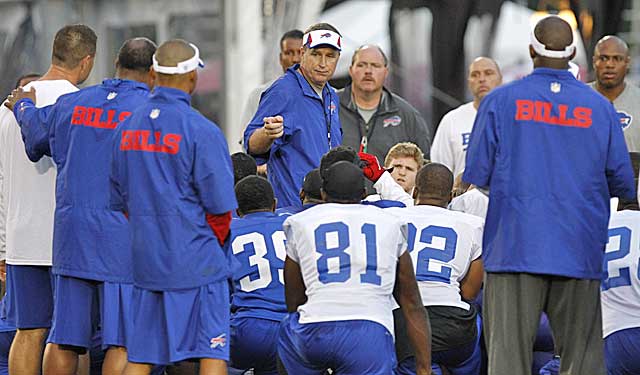 PITTSFORD, N.Y. -- The Buffalo Bills are a young team, some would call "rebuilding," but the players and coaches see this as an under-the-radar team ready to make some noise.
Top Storylines
1. The quarterback battle: Kevin Kolb is the veteran with experience and EJ Manuel the rookie who offers the hope for the future. There is no doubt, after talking with and watching fans at practice, all they need is to see some promise from Manuel to make him their man. Every time Manuel completed a practice pass the fans cheered, but when Kolb did the same it was a mild clap. I've interviewed Manuel many times, but none of them more impressive than the camp interview. I felt like I was sitting with Russell Wilson last year, the way the young man talked about preparation, leadership and efficiency. Coach Doug Marrone told me they were soon going to up Manuel's workload as they start to raise short-term expectations. My bet is Manuel responds and wins the Week 1 job.
2. Critical position battles: On offense the Bills must find a left guard to replace Andy Levitre. Colin Brown is getting the first shot and Doug Legursky is threatening to take the job, but I get the feeling Antoine Caldwell could be the man in the end. Caldwell had 19 starts for the Texans, never has been called for holding and has yielded only five sacks. At wide receiver, in the two-WR personnel groups, rookie Robert Woods is battling TJ Graham. As a rookie, Graham caught 31 passes last season, but Woods' route-running and ability to read coverage and convert routes puts him in the mix to win the starting spot. Finally, there is a real battle for the kicking job. Veteran Ryan Lindell was 21 of 24 last year but rookie Dustin Hopkins has a big leg to kickoff and is pressing Lindell. I have a feeling Hopkins wins the job.
3. The Jarius Byrd situation: Byrd is the franchise free safety who refuses to come to camp. It's too late to negotiate a long-term deal, and the club doesn't appear to expect him any time soon. In the meantime, rookies like Duke Williams and Jonathan Meeks are getting in some work, as well as Aaron Williams. I think Byrd shows up the week before the opener.
4. The new defense: Last season, the Bills were a bend-but-don't-break unit, utilizing the least amount of blitzing (less than 20 percent of the time in all down and distance situations). But in 2013, Mike Pettine's defense will employ triple the pressure calls. Defensive tackle Kyle Williams said the installation has been fast and furious, but it's all in and now the team is working on pressure call repetitions. Expect safety and linebacker blitzing to be a way of life in Buffalo.
5. The Mario Williams situation: He hurt his foot at practice the day before I got to camp, and wasn't on the field the day I was there. Mario is fine now, and back on the field after missing only one day. The situation offered a glimpse of the non-nonsense Marrone, who told reporters he was not sure of the extent of Williams' injury. Some media weren't buying his answer, but they should have let it go. I've known Marrone since he was in high school, and he's a straight shooter who speaks the truth. But a few reporters kept for more information until Marrone got frustrated with the continuing line of questioning. As it turns out, there was nothing else to report and expect the same type of answers from the coach.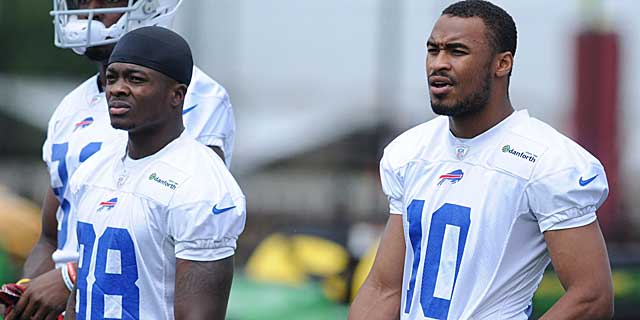 6. Rookie report: While some term this Bills team a rebuilding project, my impression of Marrone, the new GM and lots of young players is they simply are trying to put the best team on the field right now. That being said, the rookies will play a big role. I could easily see four rookies starting: EJ Manuel, Robert Woods, Kiko Alonzo, and Dustin Hopkins. I also expect to see solid contributions from Marquise Goodwin at wide receiver and special teams for Jonathan Meeks and Duke Williams while they wait their turn in the secondary.
7. The no-huddle offense: The no-huddle offense was a big part of what the Bills did in 2012 and, after watching practice, it appears to be a big part for 2013. The Bills will apply pressure to opponents with the no-huddle and they already look good working on it.
8. Final thoughts: There could be nine new starters when the season opens at home against the Patriots. The Bills have started fast in years past and faded down the stretch, partially because of roster depth and quarterback play. This team may get better as the season continues and young players grow. The buzz around the Bills will be about the 2014 season as this team goes 7-9 this year.
Things I saw or heard at camp
1: The Bills plan on playing rookie linebacker Kiko Alonzo more than 90 percent of defensive snaps. That's a lot of work and pressure on a young linebacker. He looks athletic enough, but there are mental challenges, largely because of the audio device in his helmet. For instance, Patrick Willis, the great 49ers linebacker, didn't wear the device his rookie season -- one of the safeties did.
2: The Bills were in full pads and had an old fashion half-line scrimmage, rotating players thru many positions to see how much flexibility the roster has -- especially along the offensive line. It was a sign of just how good a coach Marrone is and how much solid work this team is getting in camp.
3: Rookie wide receiver Da'Rick Rogers made a fantastic catch in traffic and looked a little like a young Randy Moss. He is dangerous and should make this team.
4: Rookie safety Jonathan Meeks a fifth-round pick from Clemson who a few big hits in practice and caught the eye of the coaches and front-office people.
5: The Bills are going to be a very dangerous "20" personnel team (two running backs. three wide receivers). Expect to see a lot of Fred Jackson and C.J. Spiller on the field together with Stevie Johnson, Robert Woods and probably T.J. Graham. Spiller can split out to wide receiver, Jackson is a willing blocker if they want to run power and there's lots of speed on the outside.
6: Manuel talked with his wide receivers like a veteran QB. He spent a lot of time talking routes and alignments with rookie receivers Marquis Goodwin and Woods.
7: Jackson is the leader of this team, and never stopped encouraging guys during practice. He even spent time with young defensive players, and Marrone recognizes Jackson's value as a leader.
8: The best Buffalo corner, Stephon Gilmore, was very tough on the young wide receivers and his "press" technique was a real challenge for Woods, Rogers and Goodwin.
9: I was pleasantly surprised at how good Kourtnei Brown, an undrafted player from Clemson, is as a pass rusher. He could become a factor in their third-down defense.
10: The Bills are happy they traded for OLB Jerry Hughes from the Colts. Hughes did not live up to his first-round draft status with only five sacks in three seasons, but the change of scenery looks to have done him some good. He had a very good practice in the one-on-one pass rush drills and the team period.
The Cowboys running back now looks like a tank

Former Atlanta sportswriter Larry Hartstein knows the Falcons and locked in a pick for 'Monday...

Let's examine Sashi Brown drafts during his time as Cleveland's GM to decide if John Dorsey...
This was definitely one of the weirdest things to happen in Week 15

This might be the one guy who actually understands the catch rule

Jackson is 1-29 since becoming the Browns coach in 2016