Bills OL Eric Wood: 'Classless' Browns were targeting QB EJ Manuel
Buffalo Bills center Eric Wood believes the Browns may have been targeting quarterback EJ Manuel. Wood said he heard a Browns player say 'I told you to warn him we were going to get him' after Manuel was injured.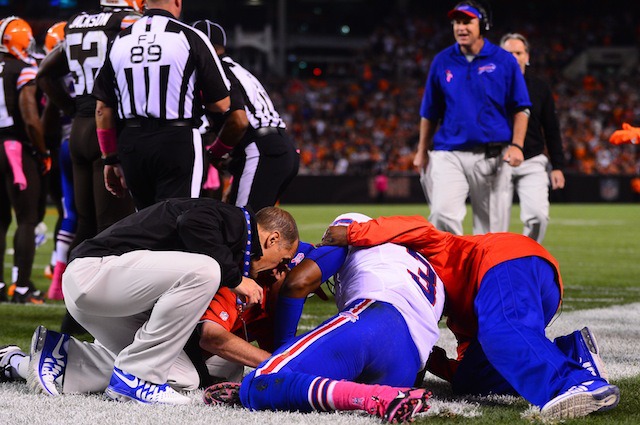 The injury Bills quarterback EJ Manuel's suffered on Thursday may not have been an accident, at least according to Bills center Eric Wood. Wood said on Friday that he heard Browns safety T.J. Ward say Cleveland's defense was 'going to get' Manuel. 
"You've got T.J Ward yelling at Kiko [Alonso], you know, former college teammates, 'I told you to warn him that we were going to get him.' That's classless," Wood said, via the Buffalo News.
The 'I told you to warn him' part seemingly implies that Ward had been telling Alonso all game that the Browns were after Manuel. Ward and Alonso attended the University of Oregon together.
"Every team's probably got 'em, so I'm not going to say that nobody on our team has never done that. But it ticks you off when someone on the other team does it, for sure," Wood said. 
It probably wasn't a coincidence that Ward allegedly yelled this to Alonso, besides going to college together, Alonso was responsible for the hit on Browns quarterback Brian Hoyer that led to Hoyer leaving the game in the first quarter.
Hoyer has since been diagnosed with an ACL tear and will miss the rest of the season. 
As for Manuel, he left Thursday night's game in the third quarter after taking a big hit from Browns defensive back Tashaun Gipson. Manuel immediately clutched his right knee after the hit. 
Wood didn't necessarily have a problem with Gipson's hit, but he did have a problem with the way he reacted. Gipson pumped his fist after the hit. 
"The hit was fine. What ticked me off was the way they acted afterwards," Wood said. "I hope our defense never acts like that when they injure an opposing quarterback because, you know, you've got to show some class in that situation. There's a few guys over there that obviously didn't."
Ward defended himself on Friday afternoon, calling Wood's accusation inaccurate. 
"That is completely inaccurate," Ward said, via Akron Beacon Journal. "I did speak to Kiko and he went to Oregon with me. But anytime a player gets hurt, you never praise or root for players to get hurt. It's competitive sport, a violent sport, but when you see players go down, no way in any shape or form it's a celebration."
Manuel has since been diagnosed with an LCL sprain and is expected to miss the next few weeks. 
The Cowboys unveiled a new look on Sunday and their fans seemed to love it

Conquerors of adversity in 2017, the Eagles are still on the fast track to claiming the NFC's...

Cord-cutters are probably going to like this new deal between the NFL and Verizon
Stephen Oh has his finger on the pulse of Bill Belichick's team and just locked in a strong...

Savage left the game before returning after just one series

Quinton Jefferson explains why things got ugly in Jacksonville