Bills QB EJ Manuel suffers LCL sprain, out for a few weeks
Bills quarterback EJ Manuel will miss a few weeks after being diagnosed with a sprained LCL in his right knee. Manuel, who suffered the injury on Thursday against Cleveland, won't need surgery on the knee.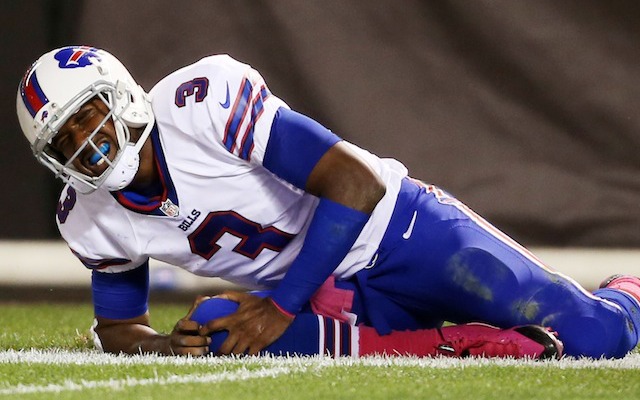 Two quarterbacks went down injured in Thursday night's Bills-Browns game. One of them will return this season, the other won't. 
Browns coach Rob Chudzinski announced on Friday morning that Brian Hoyer will miss the rest of the season after tearing his ACL, however, the news wasn't as bad in Buffalo. 
Bills quarterback EJ Manuel suffered an LCL sprain in his right knee that won't need surgery, coach Doug Marrone said on Friday. The LCL sprain is expected to keep Manuel sidelined for a few weeks. 
Manuel left Thursday night's game in the third quarter after taking a big hit from Browns defensive back Tashaun Gipson. Manuel grabbed his right knee after the play and left the game. 
The injury happened on a third-and-8 play as Manuel was finishing a 14-yard scramble. Manuel was near the sideline but wasn't out of bounds when Gipson hit him. Manuel immediately clutched his right knee after the hit.
The score was tied at 17 when Manuel left the game, but Manuel's scramble got the Bills down to Cleveland's 13-yard line and the Bills eventually finished the drive to take a 24-17. Manuel's final drive of the game led to the Bills final points of the game and Buffalo ended up losing 37-24. 
For the Bills, the timing of Manuel's injury couldn't be worse. If Manuel's out for the next few weeks, that means Buffalo's starting quarterback will most likely be undrafted free agent Jeff Tuel, unless the team decides to go another route, like say, signing Josh Freeman. 
Marrone did say the Bills would look 'outside the organization' for a quarterback. 
The Bills upcoming schedule is pretty brutal, over the next four weeks, the Bills play at home against Cincinnati (2-2), on the road against Miami (3-1), on the road against New Orleans (4-0), and then at home again against Kansas City (4-0). Those four teams have a combined record of 13-3.
Dak Prescott was efficient and explosive and DeMarcus Lawrence was dominant in the Cowboys...

The Dallas receiver threw up the X after his score, and he certainly deserved it

The singer sent a message with a verse of scripture on Monday night
The Cowboys owner joined in a demonstration with the Cowboys players before Monday night's...

Look for Ezekiel Elliott and Dak Prescott to rebound after a rough outing in Denver

Quarterback Russell Wilson was one of the chief proponents for the Seahawks staying in the...