Bills training camp: Is EJ Manuel the man to get Buffalo back to playoffs?
There are stirrings of optimism in Buffalo, where a new defensive scheme and a rookie WR have fans excited. But these Bills will only go as far as EJ Manuel takes them.
More NFL: Photos |   Videos & GIFs |  Stories | Training Camps | Johnny Manziel watch
The Buffalo Bills are for sale, the team hasn't been to the playoffs in 14 years and yet there is a genuine excitement about this team anyway.
There is a lot of pressure on second year QB EJ Manuel , but I never felt any of it after sitting down with him. Manuel is cool, calm and collected, and I think he has enough weapons to get the passing game -- which ranked 28th last season -- going. Coach Doug Marrone loves to employ the no-huddle offense and defensive coordinator Jim Schwartz loves to rush the passer with just his front four. Both objectives look very attainable to me after watching practice.
Are the Bills a team people are overlooking? I watched two practices and sat down with Marrone, GM Doug Whaley, as well as players Kyle Williams , Stephon Gilmore , Fred Jackson , C.J. Spiller , Sammy Watkins, and Eric Wood to get a feel for this football team. Buffalo has a good chance to improve on its 6-10 record last year.
What to expect from the offense
Sometimes we equate the 'no-huddle' philosophy with a passing game, but in Buffalo they love to run the ball from the no-huddle and Marrone said he loves the no-huddle to keep the pressure on the defense and try and wear them out.
One of the best offensive get the packages I saw at practice was their '20' personnel package with Jackson and Spiller on the field along with three wide receivers -- Sammy Watkins, Mike Williams and Robert Woods . Manuel looked sharp with the short passing attack and his deep passing game is a work in progress. Without left tackle Cordy Glenn in camp, the protection looked a little unsettled. Last year the Bills gave up a sack every 12 pass plays and that needs to improve. Watkins was very impressive, especially against press coverage and made it look easy to get whatever release he wanted. After the catch he was as dangerous as any receiver in the league.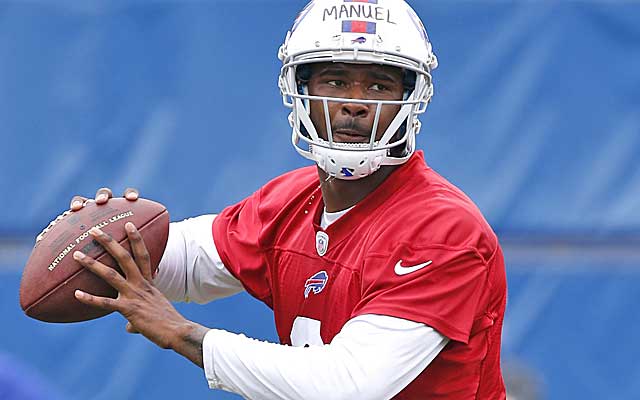 As for Mike Williams, he is healthy and he has a great knack for winning the rebound balls when contested by the corners. Keep an eye on an unknown wide receiver, Chris Hogan , wearing No. 15. Hogan is an outstanding slot receiver who catches everything and has the speed to get behind people. The tight ends are injured right now and are hard to evaluate but Scott Chandler led the team in receptions last year and should be more productive this year if Manuel grows into the position.
What to expect from the defense
Out with the 3-4 and in with the 4-3 package under new coordinator Jim Schwartz. After watching the front four, they all seem better suited to a 4-3 because of their quickness. Last year Mario Williams , Kyle Williams, Marcell Dareus , Manny Lawson and Jerry Hughes combined for 45 sacks from a 3-4 package and they should be even more productive this year.
Can Hughes or Lawson put their hand on the ground and become a 4-3 rush defensive end instead of an outside linebacker in the old system? I discussed the transition from the 3-4 to the 4-3 with Williams and he claimed there really isn't much difference in the two concepts and the transition has been smooth.
Gilmore said nothing much has changed in the secondary, so it is reasonable to expect the conversion to go smoothly. Coach Schwartz's first job is to stop the run, something the Bills didn't do very well last year. They ranked 28th against the run and 32nd in explosive runs over 20 yards. All day Schwartz harped on the run fits and the gap integrity, which should fix the problems with big runs. I was at camp watching Nigel Bradham working in the place of injured Kiko Alonso and looking pretty good at doing it, but word came down during practice that Bradham has been suspended for the first game and now the team needs to get rookie Preston Brown ready to play.
Biggest concerns
Will the search for a new owner become a distraction to the team during the season? When will Glenn return to a team that was ranked 28th in the league in giving up sacks? Can the defense fill the void left by the loss of Jairus Byrd and Kiko Alonso? Is Manuel ready for the big step toward becoming a playoff QB? Can the Bills run defense improve from their 28th ranking last year. In 2013 their division opponents rushed for 875 yards in six games or 149 yards per game, and this year the New York Jets added Chris Johnson , the Miami Dolphins added Knowshon Moreno and the New England Patriots added James White.
Rookie report
Sammy Watkins is a strong candidate for rookie of the year and should see a minimum of 100 targets and 60 receptions this year. Cyrus Kouandjio is getting work at right tackle and there are no intentions to move him to the left side, but he is still raw and may be a backup for at least half the season. Preston Brown was supposed to sit and learn but he will be pressed into duty. Ross Cockrell is working with the third team as a nickel and has a chance to stick on the active roster as a backup. Randell Johnson is a linebacker on the PUP list. Seantrel Henderson is running as the second team LT but when Glenn comes back Henderson serves no purpose until he improves.
Players on the bubble
OG Kraig Urbik has his hands full trying to keep his starting job and is being pressed by rookie Cyril Richardson. If WR Chris Hogan keeps playing the way he is right now Marcus Easley or T.J. Graham could be on the bubble. TE Tony Moeaki is injured again and the club appears excited about Chris Gragg , a seventh-round pick last year.
Season prediction
There are five to six players on this roster that will get strong Pro Bowl consideration and there is depth at most positions. This season really comes down to Manuel. His first big test is a scrimmage on the road against the Pittsburgh Steelers next week where he must demonstrate leadership and development as a QB. The Buffalo front office wants the Bills players to really see how a rough and tough team like Pittsburgh handles situations. If things go well then I could see the Bills going 9-7. If they are mediocre then 7-9 looks like the call.
Forget being the highest paid receiver, Odell Beckham has loftier goals for his next contr...

There was a Rolls-Royce at Steelers training camp, but no Le'Veon Bell

'It ain't about 2016 and it ain't about 2018. It's about 2017,' Doug Williams told his qua...
Philip Rivers will not be moving to Los Angeles with the Chargers

Bryant has had off-the-field issues keeping him off the field for the past few years

Technically Woody Johnson is the Jets' owner, but on the other hand, Brady does own the Je...