Bills WR Stevie Johnson suffers back injury
Bills wide receiver Stevie Johnson injured his back in the first quarter of Thursday night's game against Cleveland.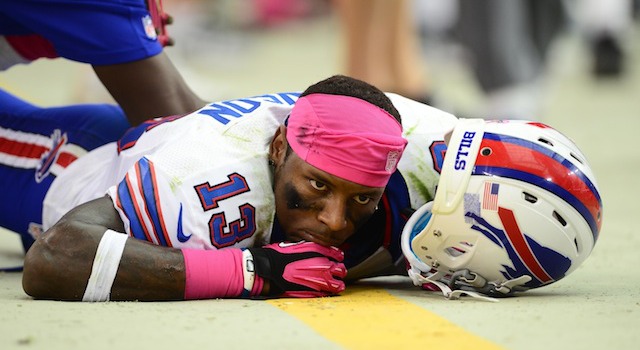 The Browns weren't the only team to suffer a potentially costly injury in the first quarter on Thursday, as Bills WR Stevie Johnson also went down with an injured back. Johnson returned to the game with just under three minutes left in the second quarter on a third-and-3, but after the Bills didn't convert, Johnson headed to the locker room at the two minute warning and did not return.
Johnson tried to make a move on the sideline to see if he could return to the game and he had trouble making the move, according to the Buffalo News. 
Johnson left the game having tallied two catches for 19 yards. Coming into the game, Johnson was the Bills leading receiver on the season with 18 catches for 235 yards and two touchdowns. Quarterback EJ Manuel may have to rely more on rookie Robert Woods if Johnson can't return. 
The injury to Johnson happened after Cleveland suffered a big injury of its own. Browns starting quarterback Brian Hoyer went down with a knee injury with over 11 minutes in the game. Like Johnson, Hoyer's return is also questionable.
After two weeks of snoozefests, the NFL was back to being must-see TV on Sunday

Here are the Week 3 grades for every team that played on Sunday

Plus Lynch sputters, the Raiders defense falls flat and the response to Trump continues on...
From Brady's perfect pass to controversy in Detroit, we have it all covered from a crazy Week...

It's been a rough Sunday night for the Raiders

From London to Sunday Night Football, teams around the league demonstrated in response to...