B.J. Daniels takes selfie with Bill Clinton portrait, fan thinks it's JFK
Do you know what Bill Clinton looks like?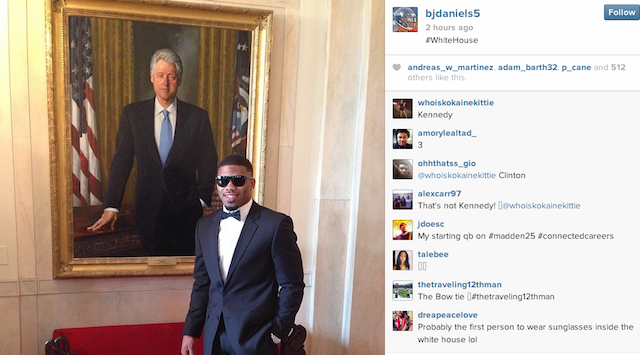 People don't usually learn important historical lessons on Instagram, but we all learned a very important one on Wednesday: The man in the portrait above is not John F. Kennedy.
For that matter, neither is the man in the photo.
Seahawks backup quarterback B.J. Daniels was at the White House on Wednesday with the rest of his team when he decided to take a selfie with a portrait of Bill Clinton. Not everyone's aware that the man in the portrait is Bill Clinton though.
As you can see above, at least one commenter thought the man was JFK. Thankfully, two other commenters didn't skip their U.S. history classes in middle school and were quick to point out that the man in the portrait is not JFK. 
So if you learn nothing else today, at least you now know that Bill Clinton is not John F. Kennedy. 
Everything you need to know heading into Week 15 is right here

Haden has been out since Week 10 with a fractured fibula

There's also the possibility Goodell steps aside early if his potential successor is progressing...
The league could return to its pre-2009 policy after a year in which pregame protests took...

Arians hasn't said he's retiring, but the team has discussed contingencies for a coaching...

O'Brien would be a coveted coaching candidate if he were to hit the open market