Blaine Gabbert carted off after sprained ankle, will be evaluated
Jaguars quarterback Blaine Gabbert was carted off with a sprained ankle on Monday and will be evaluated over the next two days.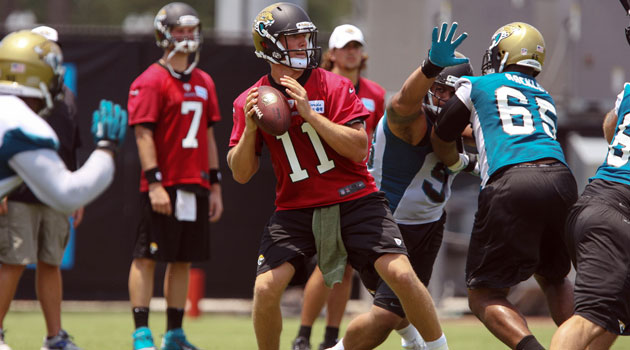 What is almost surely a make-or-break season for Jaguars quarterback Blaine Gabbert hasn't started off well, as the quarterback was carted off because of a sprained ankle during Monday's training camp practice.
Gabbert apparently got tied up during 11-on-11 drills and will be "evaluated" over the next couple of days (as Chad Henne is given a shot to try and distance himself from the youngster).
QB Blaine Gabbert sprained his right ankle at practice today and left practice. Will be evaluated next two days. #Jaguars

— Jacksonville Jaguars (@jaguars) July 29, 2013
Per John Oesher of Jaguars.com, lineman Uche Nwaneri was pushed back while blocking for Gabbert as the quarterback was stepping up in the pocket.
The result was a sprained right ankle, Gabbert getting carted off the field and the sudden awkwardness of a career crossroads for a quarterback who's entering his third year at only 23 years old.
He's got a new coach in Gus Bradley and a new GM (who didn't draft him) in Dave Caldwell. Not performing at an acceptable level in 2013 almost assuredly means the end of the Gabbert era in Jacksonville.
Henne's no hero, but the Jags only want to be as competitive as possible this year with what they've got under center and then turn towards a strong quarterback draft class in 2014.
Gabbert could end up being fine, but it's going to be tough to win the quarterback job and restore faith in his abilities from the training room. That's not an indictment of Gabbert's ability to stay healthy, it's just the harsh reality of the NFL.
Everything going the Chiefs way on Thursday Night Football

Beast Mode went Beast Mode on someone he shouldn't have gone Beast Mode on

This is how you do a 99-yard touchdown drive
This may or may not have been pass interference

That sort of sounds like the nickname of a certain NBA MVP

Cam Newton decided not to take part in his mandatory press conference this week