Bold NFL predictions for 2014: Cardinals will make the playoffs
The Cardinals will make the postseason. Matt Schaub will be better than expected. And Johnny Manziel will have a long wait. More predictions here.
• 8 min read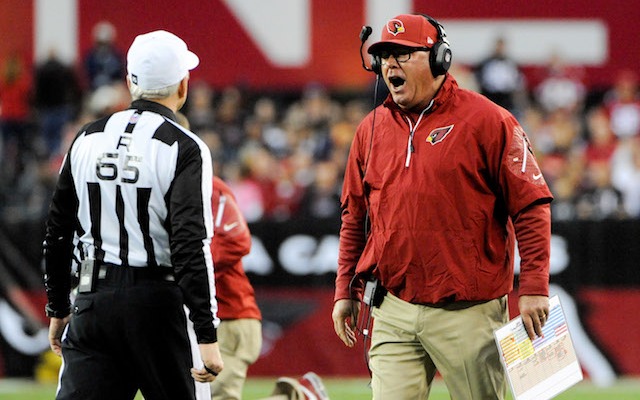 Here are some of my predictions. Scratch that. These are my bold predictions. Because making easy predictions is too simple for somebody with my prognostication skills (I am an underwhelming very solid 55-65 against the spread and 50-35-1 on prop bets during the last two seasons in my weekly picks post). But get a bold prediction correct, and you'll live in infamy forever.
1) The Cardinals will make the playoffs: They should have made it last season after going 10-6 in coach Bruce Arian's first as head coach. As long as Carson Palmer continues his solid play -- and he had one of his best seasons in years in 2013 -- Arizona will continue to be dangerous. Receiver Michael Floyd had a nice breakout season last year, and pairing him with Larry Fitzgerald should continue to pay dividends. I was impressed by running back Andre Ellington during his rookie season in 2013, and now that he's the main man in the backfield, he should put together an even better season.
Despite the loss of defensive tackle Darnell Dockett with a torn ACL and linebacker Daryl Washington to a season-long drug suspension, the secondary featuring Patrick Peterson, Antonio Cromartie and Tyrann Mathieu could be one of the best in the league.
And yeah, despite the theory the NFC West is one of the toughest divisions in football, the Cardinals have a chance to win it because there might not be a dominant team. The 49ers and the Seahawks and the Rams all will beat each other up, meaning Arizona will have to figure out a way to win on the road. The Cardinals did it in Week 16 last season at Seattle, and that kind of ability is why I like them to make the postseason in 2014.
2) We'll forget about how bad the penalties have been this preseason: In every radio interview I've done for the past week, the host has asked me about the league's new point of emphasis when it comes to defensive holding and illegal contact penalties. Yes, the increased flag-throwing has made many of these preseason games even more unbearable to watch. Not that the NFL seems to care.
(Though we've seen in the past that when the fans and media are outraged about the subject of game officials, the league can be decisive about righting the wrong).
But let's say the atrocious penalties continue into Week 1 (say, for example, the Saints are called for 20-plus penalties, like they were in Week 2 of the preseason). Fans will be upset, and Twitter will be exploding. One of two things (or both!) will occur. 1) The NFL will quietly tell the game officials to take it easy on the penalties. 2) The players and coaches will adjust their gameplans to make themselves less susceptible to those infractions.
Either way, the preseason talk about mountains of yellow flags will be forgotten by Week 3 of the regular season. Sure, the NFL oftentimes doesn't particularly care what fans want (especially if it contrasts with making money), but if so many fans are turned off by the penalties that they're thinking about turning off the TV when football is on, you can be sure the league will adjust.  
3) Matt Schaub will be better than expected this year: Admittedly, I came up with this prediction a few weeks ago, and Schaub's play in the preseason has not made me any more confident in this forecast. But Derek Carr hurt his ribs and suffered a concussion last week, and that might give Schaub a little breathing room in order to put some distance between himself and the Raiders second-round draft pick. And if Schaub can insure himself of starting the regular season, he's good enough to keep the job for the short term.
Here's why he can do it: people seem to forget he threw for 4,008 yards, 22 touchdowns and 12 interceptions in 2012 while leading the Texans to a 12-4 record and the AFC South title. Yeah, he was terrible last season, but I don't think the 33-year-old is quite done yet. He'll have the 2014 season to prove everybody right -- or wrong.
4) Johnny Manziel won't start by Week 5: Now that the Browns have announced that Brian Hoyer, and not Manziel, is Cleveland's starting quarterback, the new storyline is that after the Browns get torched by the Steelers, Saints and Ravens to start the season, they'll rejigger the depth chart during the Week 4 bye and start Manziel vs. the Titans in Week 5.
Nope. Manziel is going to have to wait longer than that in order to take over the No. 1 quarterback job.
Here's why: though Hoyer has been terrible this preseason, he's still gaining confidence in the knee he tore up last season. When the real games start, Hoyer will be better. Like he was last season when he won all three games he started and played better than many of us could have expected. He also beat an eventual playoff team in Cincinnati, so he has experience in knocking off teams he has no business defeating.
Anyway, the point is: Hoyer, once again, will play better than we expect and will keep his job until at least the midway point of the season. Besides, there's also a good chance Manziel will do something stupid to keep himself out of the starting lineup anyway.
5) The Cowboys won't finish last in the NFC East but will fire coach Jason Garrett: I still believe Tony Romo is one of the best seven quarterbacks in the league, and as long as he stays healthy, he'll win Dallas more games than it will deserve. There's little doubt the Dallas defense will be bad, but there's enough talent on offense to keep the Cowboys out of the basement -- which will be occupied either by the Redskins or Giants.
But for Garrett's long-term future with the team, it won't matter. Owner Jerry Jones has been more than patient with Garrett -- even as he's taking away Garrett's offensive play-calling responsibilities -- but he'll need to make the postseason in order to keep his job. It won't happen, and after 2014, Dallas will be on the lookout for the next coach who will try to return the franchise to the glory days of the 1990s.
6) Rex Ryan will keep his job ... again: Ryan put together one of the best coaching jobs of his career in 2013, leading the Jets to an 8-8 record and somehow managing to keep his job despite a roster that lacked many playmakers on offense. As bad as the 2012 season was for New York, the .500 record last year had to be seen as a huge victory for the suddenly-humbled coach.
Yet, Ryan has been more verbally verbose this offseason, and he's having plenty of fun with the media.
His team will face challenges this season (will Geno Smith be better than last year, or will he give way to Michael Vick? Will the Jets cornerbacks stay healthy from now on?), but Ryan has proven again and again that he's one of the best coaches in the league. Sure, he hasn't had any problems telling you about it. Which he'll be doing again this time next year in New York.
7) The Texans will take a quarterback in the first round of the 2015 draft: Remember when the Texans were thinking about taking Manziel or Teddy Bridgewater or Blake Bortles with the No. 1 overall draft pick in 2014? Yeah, didn't happen. And it probably shouldn't, considering Jadeveon Clowney -- perhaps a once-in-a-decade talent -- was sitting right there, waiting to be paired up with J.J. Watt.
The end result of that, though, is that Houston this season will have to trot out either veteran journeyman Ryan Fitzpatrick or Case Keenum or 2014 fourth-round pick Tom Savage. None of whom likely is the franchise quarterback of the future (I kind of see Savage in that Matt Barkley role in Philadelphia. A guy for whom some people will hold hope, but ultimately won't become a starter in the league).
Thus, the Texans likely will finish last in the AFC South and very well could have another top-five pick in 2015. This time the Texans won't resist the next quarterback of their dreams, a guy like Oregon's Marcus Mariota or Florida State's Jameis Winston. Or somebody who we don't realize yet that could lead Houston back to the postseason. Unfortunately for the current team, that somebody isn't currently on the roster.
8) Alterraun Verner will have more of an impact on his new team than Darrelle Revis: Both cornerbacks were hot commodities on the free agent market this offseason, and Revis landed with the Patriots while Verner went to the Buccaneers. But Verner will have a better season than Revis, formerly the best cornerback in the game.
For one, Verner is four years younger, and ever since the 29-year-old Revis missed most of the 2012 season with a bum hamstring, he hasn't looked like the same corner he was in New York. I'm not saying Revis is getting too old or that he'll suddenly pull a Nnamdi Asomugha on us, but we also haven't seen the Revis Island domination since 2011. That would concern me. (Besides, there's a better than average chance Revis will end up injuring himself again.)
Meanwhile, Verner, who's battling a hamstring issue this preseason, will play for one of the better defensive minds in the game in new coach Lovie Smith. By this time next year, the discussion for best cornerback in the game won't only include Patrick Peterson, Richard Sherman and Revis. Verner also will have a prominent place in that discussion.
9) Once again, there will be no repeat title winner in the NFC South: No team that has ever won an NFC South title has gone into the next season and, once again, finished first in the division. The Panthers surprised many of us by going 12-4 last season and winning the crown. But expect a backslide for Carolina this season, even if it's a minor one, and the Saints will be there to take advantage and finish first in the NFC South. The Panthers might still make the playoffs, but it won't have a top-four seed.
10) 2014 will be yet another season with no HGH testing: I was right about this prediction in 2013. I was right in 2012, and I was right in 2011. Will it ever happen? I'm pretty sure it will. Will it happen in 2014? No sir.
Place your bets, you proud and degenerate Americans

The Lions fired Jim Caldwell and kept some assistants in place, so Patricia is setting his...

Is there an NFL conspiracy that will help the Patriots win another Super Bowl? We investig...
There's no bigger stage in the world than the 50-yard line on Super Bowl Sunday

From snowballs at Santa to assaults and batteries, there's no shortage of craziness in Phi...

The sports world's most unlikely relationship continues to find new legs