Bold NFL Predictions for 2014: Cowboys will make the playoffs
The Cowboys in the playoffs? That's one of five bold predictions for the 2014 NFL season.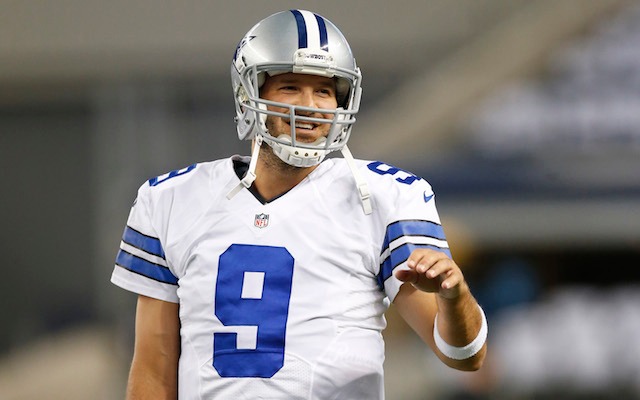 More NFL: Photos |  Videos & GIFs |  Training Camp updates | Manziel watch
Are the Cowboys going to ride Jerry Jones' party bus to the playoffs? Will the Titans end a playoff drought that dates back to 2008? Will Andy Dalton win an NFL playoff game for the first time in his life? Will I keep asking questions or will one of these sentences eventually end with a period? 
It's time to answer all of those questions with some bold predictions. 
Five bold predictions for the 2014 NFL season
1. Andy Dalton wins his first playoff game -- In three seasons, Andy Dalton has proven that getting the Cincinnati Bengals to the playoffs is easy. The hard part for Dalton is actually winning a game once he gets there. 
Dalton might have put on a choke show in Cincinnati's 27-10 loss to the San Diego Chargers last season, but at least the Bengals didn't lose 41-0 or 24-2. Why did I bring up those scores? Because 41-0 is how bad Peyton Manning lost when his career playoff record dropped to 0-3 and 24-2 is how bad Matt Ryan lost when his career playoff record dropped to 0-3. 
After both of those games, both quarterbacks spent an entire offseason being asked if they'd ever win a playoff game. In 2003, Manning was dealing with the same criticisms Dalton is dealing with now. 
That's not to say Manning and Dalton are the same quarterback, because they're not. Dalton's never been in a rap video with Eli and Peyton doesn't have red hair, but Dalton's career is similar to Manning's when it comes to failure in the first three playoff games. Both quarterbacks were horrible. 
When Manning finally did win a postseason game, it came on a night where he only threw 26 passes, a number that's still tied for a career playoff low.
The Bengals have a new offensive coordinator in Hue Jackson who understands that sometimes less is more. If the Bengals make the playoffs this year, I don't expect to see 41 pass attempts from Dalton -- the number that he's averaged in his three playoff losses -- but I do expect to see a win. 
Fan tweet: I hope Andy Dalton has home insurance. You know, just in case the Bengals lose.
If andy dalton doesnt win a playoff game this year i am going to burn his house down

— Tyler Smith (@TSmit14) August 18, 2014
2. Dallas Cowboys make the playoffs -- If I was a Cowboys fan, I'd have a panic attack every time the other team's offense snapped the ball in 2014. That's how bad the Cowboys defense might be this season.
So why I am picking a team with a horrible defense to make the playoffs? Because I actually don't think the 2014 Cowboys defense can be any worse than the 2013 version.
Last season, the Cowboys ranked dead last in the NFL in total defense, but despite that, the team just barely missed the playoffs. If the Cowboys defense is only slightly better in 2014 and if Tony Romo 's back holds up, then there's no reason Dallas can't compete in what will most likely be the worst division not named the AFC South. 
Fan tweet: If Romo and the defense can't get the Cowboys to the playoffs, then Dez Bryant will. 
Dez Bryant about to carry the Cowboys to the playoffs.

— FlyAmerica (@ChrisSims4) August 18, 2014
3. Tennessee Titans make the playoffs -- Before Jake Locker went down injured last season, he actually looked like a somewhat competent quarterback and Locker looked competent despite the fact that the Titans were making 'predictable' play calls.
At least that's what Chris Johnson 's saying. 
"When I was in Tennessee, a lot of the plays when the offensive coordinator was calling them, they were predictable," Johnson said last week, via ESPN.com. "Everybody could tell what was coming.
With Ken Whisenhunt now running the show in Tennessee, the Titans offense should be the opposite of predictable -- and there's even a possibility that Locker could be better. If anyone ever makes a Horse Whisperer sequel about Quarterback Whisperers, then Whisenhunt will be the star. 
Whisenhunt was the offensive coordinator in Pittsburgh during Ben Roethlisberger 's rookie season in 2004 when the Pittsburgh Steelers went 15-1 and made a run to the AFC title game. Whiz was the Arizona Cardinals coach when Kurt Warner starter his career resurgence in 2007 that culminated with a Super Bowl appearance in 2008. Then there's last season, where Whisenhunt was the offensive coordinator for a Philip Rivers -led Chargers team that made the playoffs for the first time since 2009. 
Fan tweet: Not to add any pressure Tennessee, but you might lose a fan if you don't make the playoffs this year. 
If titans dont make the playoffs this year i gotta pick up another team

— Her Prince (@Oonly_DJ) August 18, 2014
4. Kansas City Chiefs finish with a losing record -- When I watched the Chiefs play last season, here's what I saw: A team that couldn't beat good teams. Kansas City went 1-5 against opponents who finished with a winning record in 2013 and I expect about the same thing this season.
Three of the Chiefs' first five games are against the Denver Broncos , New England Patriots and San Francisco 49ers , which could mean we see Kansas City stumble out to a 2-3 or 1-4 start (The other two games are at home against Tennessee and at Miami).
The good news here is that if Kansas City does have a losing record, then Alex Smith betting on himself will work in the Chiefs' favor. Smith will be forced to sign a five-year, $8 contract extension and as most people know, you can't buy much with eight dollars. 
Fan tweet: This guy agrees with my bold prediction and ADDS a bold prediciton. That's almost as bold as Alex Smith betting on himself. 
I think the Panthers and Chiefs will both miss the playoffs this year.

— (@PatriotsNationn) August 18, 2014
5. Blake Bortles wins more games than any other rookie quarterback -- You might be thinking that this bold prediction isn't that bold because Bortles was the first quarterback drafted so he should win the most games. But keep in mind though, Bortles was drafted by Jacksonville Jaguars , a team that hasn't won more than five games in any of the past three seasons. Also, Bortles isn't even the starter in Jacksonville yet. That honor currently belongs to Chad Henne . 
I don't expect Bortles to take the Jaguars to the playoffs, but I do expect him to win at least five games, which I think will be more than Johnny Manziel , Teddy Bridgewater or Derek Carr . 
To be honest, if any of these guys win five games it'd be a minor miracle. Since 2011 the Jaguars (11-37) and Cleveland Browns (13-35) have been the two worst teams in football. Don't laugh Oakland (16-32) and Minnesota (18-29-1) because you guys haven't been much better.  
Fan tweet: This guy is way more optimistic than me. 
If Bortles gets the call, I'm picking the Jaguars to be this year's Chiefs and make the playoffs.

— Andrew Fillipponi (@ThePoniExpress) August 18, 2014
An example of how not to use social media

Mike McClure, a DFS pro with more than $1M in winnings, gives optimal DraftKings and FanDuel...

Let's check in on the Giants a day after their loss to the Lions
Mike McClure has made over $1 million playing DFS and gives his best daily fantasy football...

The veteran linebacker is the franchise's all-time leader in sacks

It's unclear when Timmons, a free-agent signing in the offseason, will make his Dolphins d...