Bradley likes Chad Henne's desire to take the Jags starting QB job
With Blaine Gabbert out for Week 2 with a lacerated hand, Chad Henne has set out to win Jacksonville's starting quarterback job.
• 1 min read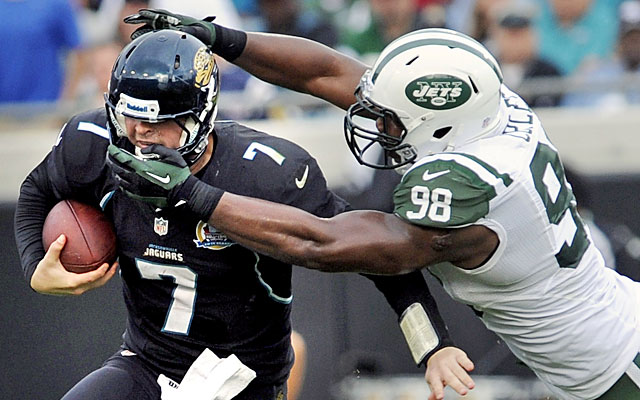 It doesn't necessarily bode well that the man who couldn't beat out Blaine Gabbert to start at quarterback for the Jaguars is now the Jaguars starting quarterback after Gabbert badly lacerated his hand last week.
But Henne, who was the starting quarterback in Miami before the Dolphins figured they should go ahead and draft Ryan Tannehill, is focusing this week on playing well enough vs. the Raiders to make sure coach Gus Bradley can't take him out of the starting lineup again.
And that's what Bradley wants to hear.
"That's good -- I would hope he would say that," Bradley said, via the team website. "He's a competitor. That's why we have confidence in him playing. I really want him to go out here and capture this and be at his best. That was our conversation today, 'Don't wait until Sunday to compete.'"
Henne, you're recall, started six games last year for Jacksonville. It did not go so swell. As you can see here.
| Year | Pos | G | GS | QBrec | Cmp | Att | Cmp% | Yds | TD | Int | Lng | Y/C | Y/G | Rate | Sk | Yds |
| --- | --- | --- | --- | --- | --- | --- | --- | --- | --- | --- | --- | --- | --- | --- | --- | --- |
| 2012 | qb | 10 | 6 | 1-5-0 | 166 | 308 | 53.9 | 2084 | 11 | 11 | 81 | 12.6 | 208.4 | 72.2 | 28 | 169 |
Of course, the Jaguars don't have many other options unless they wanted to unleash their offensive weapon, Denard Robinson, on the quarterback spot. The only other signal-caller on the roster is Ricky Stanzi, and he's struggled so much in his career he couldn't find a way to get playing time when he was with the Chiefs.
So, it's Henne. And who knows, maybe he can play well enough to take away the job from Gabbert. After all, he did OK in Miami during the first two seasons he started there.
"He has some strong leadership," Bradley said. "Just watching him in the huddle out there, the team gravitates towards him. I know he understands the scheme. It has been beneficial for us that he took as many reps as he did [in training camp]."
Follow Josh Katzowitz on Google+
Elliott will be allowed to play, for now

Mark Lamping wrote a letter to apologize to Jacksonville's director of military affairs ch...

PEN America says the NFL's talks on social activism are a 'constructive' step forward for owners,...
The Steelers quarterback weighs in on the hit that might've ended Rodgers' season

Smith was not pleased with the Steelers safety's hit on him

SportsLine's Mike McClure, a DFS pro with more than $1M in winnings, gives optimal lineup...