Brains and brawn make NFC West the best division in the NFL
Led by young, aggressive front offices and coaches, the NFC West is transformed. And it's going to get even tougher with Arizona rebuilding.
• 12 min read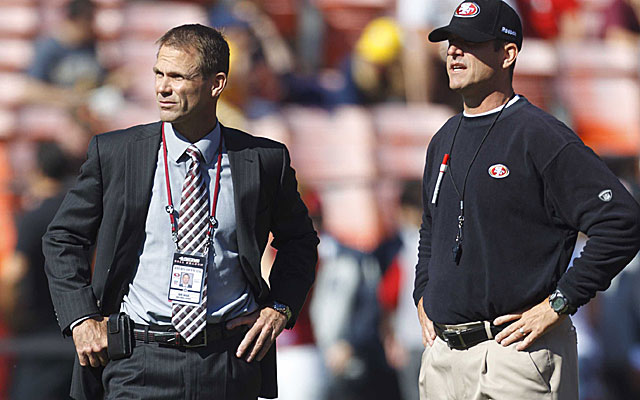 EARTH CITY, Mo. -- As the Arizona Cardinals contemplated yet another reboot this winter, trying to devise a strategy for their front office and coaching vacancies, they studied several structures in hopes of duplicating the rapid ascent of their division rivals. In the end, they decided that imitation was the sincerest form of flattery.
It was only a few years ago that the NFC West was the laughingstock of the league (if not all of pro sports), with Seattle snatching a division title in 2010 despite a 7-9 record. The situation was so unsightly that suggestions of altering the playoff seeding system became an offseason talking point.
Contrast that to now, as executives from other divisions fear three teams from the resurgent NFC West -- Seattle, San Francisco and St. Louis -- will reach the postseason.
The rapid ascent is hardly a quirk. It's not been a fluke at all. In fact, several key common denominators are present in the rise of these clubs, which are born of a paradigm in which an aggressive, first-time general manager was paired with an experienced head coach who had pretty much seen it all before.
In conversations with general managers, coaches and players throughout trips to training camps, including stops with every team in the NFC West, it's become apparent that the burgeoning race between these teams stems from the similarities in their construction.
It began with the Seahawks in 2010, when former NFL head coach Pete Carroll, fresh off a dominant run at USC, was paired with rising Green Bay executive John Schneider. It continued in 2011 when San Francisco promoted accomplished scout Trent Baalke to GM and landed Jim Harbaugh, a highly successful college coach most recently at Stanford, who had also apprenticed as an NFL assistant. In 2012 the Rams followed suit, plucking Les Snead from Atlanta as a first-time GM and installing him with Jeff Fisher, who was refreshed after a year off from football following a productive 16-year run coaching the Oilers/Titans.
All of those head coaches are full of boundless positivity; all of the young GMs are fearless and willing to gamble and make huge trades, ground where many older execs dare not tread.
Therefore, it was hardly shocking in January when Cardinals ownership, suddenly trailing the rest of the division and after a long coaching search, ended up promoting well-regarded front office assistant Steve Keim to general manager and went with the NFL's reigning coach of the year, Bruce Arians, a grizzled longtime offensive coordinator, as head coach.
With the Seahawks coming a field goal from playing in the NFC Championship Game last year, the 49ers coming a fourth-down pass from winning the Super Bowl and the Rams widely regarded as one of the most improved franchises in football since Snead/Fisher took over (St. Louis won just 15 games from 2007-2011 but surged to 7-8-1 last year), the Cardinals, who finished last year in a 1-11 rut, realize they need to improve quickly to compete. 
"It's not an accident," Keim said. "That's been a successful model, and I talked with (owner) Michael Bidwill about that. Here are two teams in Seattle and San Francisco that got better, and it wasn't like it took multiple years. They got better, and they got better quickly, and there's a reason behind that and that comes from the way they put their power structure together.
"It's because Trent has done a fantastic job in San Francisco, and obviously John has done a great job up in Seattle. They have a lot of energy, positive energy and the head coaches there also have a lot of energy in those places. And I think that's the model you want."
There was an overall trend in the NFL the past decade to seek out hot young coordinators, owners looking to keep costs down and find the next Mike Tomlin or John Harbaugh. The rise of the West has run counter to that groupthink, with Seattle, San Francisco and the Rams all spending top dollar for more proven commodities -- hardly a coincidence as well.
"The owners reshaped this division," said Rams COO and executive VP of football operations Kevin Demoff. "This was the division that got back to the highly sought-after and highly paid coach. You have to give credit first and foremost for saying we're going to get back into this arm's race. And you wound up with guys who are tough-nosed, like the power running game, and now the teams are very similar in how being constructed."
Keim realizes the chore ahead of him, now.
Schneider was willing to make bold, sage trades like acquiring running back Marshawn Lynch and pass rusher Chris Clemons; drafting Bruce Irvin in the first round; and finding steals in the draft with Russell Wilson, Richard Sherman and Brandon Browner.
The 49ers have drafted as well as any team in the league the last five years or so, stockpiling the best offensive line and linebackers in football in the opinions of many, Baalke trading up to land dynamic quarterback Colin Kaepernick in the second round.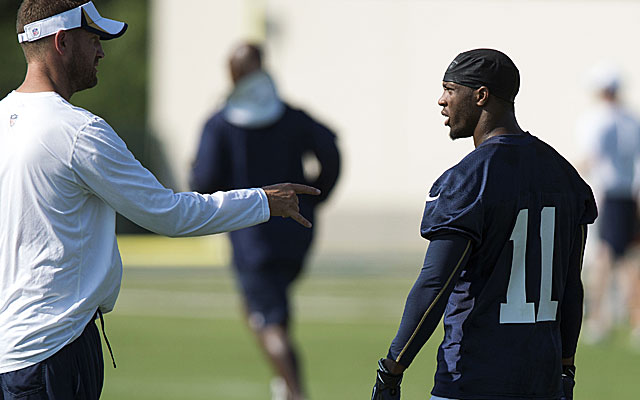 Snead executed one of the biggest trades in NFL history, getting a massive haul trading out of the second overall pick in 2012 (which Washington used on Robert Griffin III), loading up with draft picks, and pulling off a gutsy trade up to get versatile receiver Tavon Austin in the first round this spring.
Keim, in his first offseason at the helm, pulled off a trade for quarterback Carson Palmer and made a series of prudent "prove-it" signings for other veterans with a chip on their shoulder, landing guys like John Abraham, Eric Winston, and Rashard Mendenhall with essentially one-year deals, trying to plug holes while replenishing for the long haul through the draft.
And having replenished their rosters, those GMs also focused on getting their core players signed to extensions sooner rather than later, mitigating some costs while sending a strong message to the locker room about rewarding their own.
"All of those guys have a real aggressive streak," Keim said of his fellow NFC West GMs. "That's how they operate. You can't just sit back and be passive. You have to be willing to take risks. If you're going to keep up with the Joneses in this division, you'd better be willing to be creative."
Demoff said: "You wound up with these teams hiring very highly sought-after head coaches and then paired them with up-and-coming GMs, and in so many of the cases it was thought that the GMs were really riding below the head coaches, But all three have proven to be really good, and have earned their own credibility through this process."
Snead attributes part of the overall go-getter nature of the NFC West GMs to their relative youth, and them also taking over at a time when the new CBA has kept entry-level player compensation so low that it's less dangerous than ever to make sweeping moves up or down the draft. And there has been a trend among owners to look for younger guys, with fresh ideas, who came up with a strong scouting background.
"We're a generation that, I don't know if I'd call us risk-takers, but we're certainly more aggressive," Snead said. "When I got it in it in '95, there used to be the old five-year plan. And our generation, we've been raised where it went from five to maybe you get three. Or less.  And the changes to the CBA makes a difference, too.
"And in this division, we all took over teams that were down. And it was, 'Hey, we better go get what we need and do it rapidly.' I've said you can't build Rome in a day, but you'd better be able to do it in about three days."
Fisher, the top coaching prize of the 2012 offseason, did plenty of homework before making a decision on where to relaunch his career. He anticipated the NFC West was going to be more competitive than many assumed, and knew the 49ers had a head start, considering all of the talent San Francisco had amassed prior to Harbaugh's arrival (credit must be given to former head coach Mike Nolan and former GM Scot McCloughan, who is now with Schneider in Seattle). He appreciated the brains-race that was going on in the division, with so many bright coaches and execs heading West, but he wasn't quite expecting this.
"Because of the key players in some key positions in the division, I thought it would be good," Fisher said before the Rams' afternoon practice here today. "But I didn't think it would be as good as it was last year." Snead chuckled, thinking back to the texts he received when he took this job, so many of his peers telling him how easy the NFC West was, how that would hasten the Rams' development.
"Seattle had yet become SEATTLE," Snead said, "and San Francisco was obviously a good team, but it was 'Can Alex Smith really do it?' And things like that. And then halfway through last season I remember going. "Yeah, easy division! But it's fun being in it. It's fun being relevant."
There has been some tension between Carroll and Harbaugh in the past, and the Seattle-San Francisco rivalry is brewing as one of the NFL's best. That occasional friction only makes the football better and seems to be bringing out the best in all of the organizations.
"We have tremendous competition in this division," Baalke said, "and certainly if you don't respect the competition at some point that catches up to you. I've got great respect for all of those men. I thin John has done an excellent job and I think Les has done an excellent job, and I think Steve has already stared out and made some significant headway there.
"I've got great respect for all three of them, and that's what we're in this for, competition. If you're afraid to compete, you're in the wrong position. So while I respect them, we're certainly not going to back down. We're going to compete."
The other coaches and evaluators in the division said it was clear, at the time they took over at their respective clubs, that San Francisco was the most talented team in the division. They hadn't put it all together  yet, obviously, and it took Harbaugh to mold them, but the presence Frank Gore and Joe Staley and Vernon Davis and Patrick Willis, to name a few, put them at a distinct advantage.
"When Pete and I first got here, they were clearly the most talented team in this division," Schneider said. "We looked at that their roster, and we played them out first game of the year (in 2010) and ended up wining the game.
"But at the time you looked at the two rosters and it was like, man, we were kind of like going out there like in high school for the coin flip and we look across and it's like, 'Oh man those are some big dudes.' Big, fast, athletic. So ourselves, the Rams and Cardinals really have kind of, from a talent standpoint, all been chasing the Niners for a little while."
It used to be in the old days of the NFC West, With Bill Walsh the architect of the 49ers dynasty, teams had to be built to stop the rhythm, short-passing attack of his West Coast Offense. The division may have been perceived as perhaps a little soft, not as bare-knuckled as say, the NFC Central at the time.
No longer.
The 49ers are now built to beat you and roll through you, with one of the biggest offensive lines in the league, a power run game, huge tight ends and linebackers. They assault at the line of scrimmage, and that has become the blueprint out here. Carroll loves to road-grade with Lynch; Fisher has always been a power run team (think of Eddie George in Tennessee) and Arians spent so long running Pittsburgh's offense, which is synonymous with ground and pound. 
"It's definitely not like anything finesse anymore," Carroll said. "This is a tough, tough division to play in. We all take pride in being physical and tough. And where that fits with rest of the league, I don't know, but I know each week it's a battle."
When Snead and Fisher arrived, an immediate premium was placed on rebuilding the defensive line, with them focusing on drafting tackle Michael Brockers and signing tackle Kendall Langford. "You knew you were going to have to try to stop Lynch, and you were going to have to try to stop Gore," Snead said. "That was one of our goals last year."
These teams are all built to attack the quarterback (San Fran with Justin Smith and Aldon Smith; Seattle adding Clif Avril to Irvin and Clemons; Arizona with Darnell Dockett and Calais Campbell;) which forced Keim, with a weak offensive line, to prioritize patching it up, immediately, through the draft (taking guard Jonathan Cooper historically high) and free agency.
Things also changed drastically last season when Wilson won the Seahawks starting quarterback job, excelled in traditional and read-option schemes and had one of the best rookie seasons in NFL history. And then Kaepernick took over under center for San Francisco midway through the season and was outright dominating at times also in a hybrid zone-option attack. Wasn't that long ago that the biggest advantage the Rams thought they would have in the NFC West with former first-overall pick Sam Bradford, who they believe will become a franchise quarterback. Then, suddenly, with Wilson and Kaepernick changing the way the position was played.
"I always thought with Sam we had an opportunity to distance ourselves from the other  teams in our division," Demoff said. "Once they got young quarterbacks they could grow with, now that changes things."
So no surprise that the 49ers loaded up on edge defenders and St. Louis took a chance on talented-but-troubled speed linebacker Alec Ogletree in the first round, continuing to prize athleticism.
"That's what you have to keep in mind when you build you team, whether drafting players or signing them." Keim said. "What kind of defenders do we want? We need long, athletic defenders who can run, because there's already two quarterbacks in this division who can get out of the pocket and kill you on the perimeter."
There is some hope in Arizona as well, with Palmer the best shot they have had for competent quarterbacking since Kurt Warner retired, and, as Demoff pointed out, Eli Manning, just entering his prime was drafted just one year before the recently traveled Palmer, also a first-round pick. "Every team in this division could be set up for a run," Demoff said.
At least for now, before a real game has been played, I believe this is the best division in football, and only getting better. There is star power, overall youth, teams without salary cap handcuffs, rosters seemingly just coming into their own. And it's more than mere coincidence.
"Personally, I believe this is the best division in football," said Cardinals All-Pro receiver Larry Fitzgerald. "Just look at the teams and the coaching pedigrees and all the moves these teams made. I don't see a better division around."
Tom Brady might be in the doghouse when he gets back from Mexico

Perriman was supposed to help fix the Ravens' offense; instead, he's become part of the pr...

R.J. White has his finger on the pulse of the Cowboys and made a strong play for Sunday Night...
CBS All Access allows viewers to stream every NFL on CBS game in their local market

CBS All Access allows viewers to stream every NFL on CBS game in their local market

CBS All Access allows viewers to stream every NFL on CBS game in their local market