Brandon Weeden earns plaudits for offseason performance
In the eyes of Cowboys tight end Jason Witten, new quarterback Brandon Weeden has played well this offseason.
• 2 min read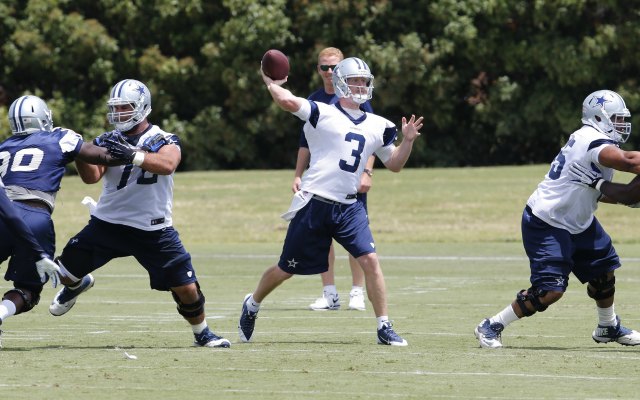 More NFL offseason: League minicamp dates | Latest news, notes
Since we've spent so much time talking about Johnny Manziel  this offseason (like, all the time) and what former Browns quarterback Brady Quinn thinks about Manziel's offseason actions (only some of the time), it's only fair to let you know what's happening with the quarterback who was drafted as Cleveland's future in between the two.
That, of course, is Brandon Weeden, who was cut last March by Cleveland and was signed by the Cowboys as the third quarterback behind Tony Romo and Kyle Orton.
Except, here's the thing: Romo is still recovering from a back injury and Orton is weighing retirement. Neither participated in the OTAs or the mandatory minicamp. Which means, if the season were to begin today, Weeden would probably be the Cowboys starting quarterback.
So, let's check in and see how he's performed thus far.
"We haven't put on pads, so I hate to go too far, but he's done a great job," tight end Jason Witten said, via the team's official website. "He's embraced this opportunity. I think he's learned a lot from Tony, and he's gotten a lot of reps, 10, 11 practices now with the ones. I thought he's done a great job."
But before we start proclaiming Weeden the future of the Cowboys organization, it also seems that Witten is kinda, sorta pining for Orton to return.
"We all understand it's a business, but obviously we value [Orton] on our team," Witten said. "You look at last year, there's no greater example of what he meant to us. We're going into Week 17 and he has to start that game. Hopefully he can work through that and he can come to camp and be a big part of this team, because obviously if Tony goes down, Weeden's done a great job, but Orton's had a lot of success in this league."
In case you missed it, Witten said, "Weeden's done a great job, but ..."
That should tell us something.
For now, it's unclear if Orton actually will show up for training camp. He skipped the mandatory minicamp, and it sounds like he actually wants to retire without having to pay back the Cowboys any of his signing bonus, which he could accomplish if Dallas releases him at some point.
But if Dallas loses Romo at any point in the season and Orton does, in fact, retire, it seems unlikely the team would be thrilled about having to use Weeden as its starter. Perhaps this guy would be available instead.
Let's call it the Blair Walsh revenge game

Jeremy Lane also stood near Bennett along with pass rushers Cliff Avril and Frank Clark

Bennett also dedicated it to 'all of the other athletes using their platform to promote ch...
The Patriots quarterback shows commitment from Day One

Cardinals' running back says he's feeling more energized

The Vikings' receiver is wearing his heart on his foot