Brandon Weeden to remain as Browns starting QB
Despite an awful interception and a loss to the Lions, Browns coach Rob Chudzinski won't replace Brandon Weeden as starting quarterback.
• 1 min read
Just because Browns quarterback Brandon Weeden threw one of the worst interceptions you'll ever see -- a pick Weeden later called "boneheaded" -- Cleveland isn't thinking about making another change at quarterback. As the Cleveland Plain Dealer writes, Jason Campbell will stay as the backup quarterback and Weeden will remain as the starter heading into Week 7 vs. Green Bay.
"Brandon played well in spurts,'' Chudzinski said Monday. "There's nothing blocking that. I feel good about Jason Campbell. This was one game."
Chudzinski said he'd feel good about starting Campbell as well, but he's not ready to make that move.
In Weeden's first start back at quarterback, following the season-ending injury to Brian Hoyer (who had taken Weeden's job after Weeden had gotten hurt), he went 26 for 43 for 293 yards, two touchdowns and two interceptions in the Browns 31-17 loss to the Lions.
But remember, Weeden is 5-13 as an NFL starter, and you have to worry about whether his teammates, who watched Hoyer shine in his brief tenure as the starter, believe in Weeden.
Chudzinski said he doesn't think that will be a problem.
But what about the Browns chances now of winning the AFC North title now (as I may have written about a few weeks ago)?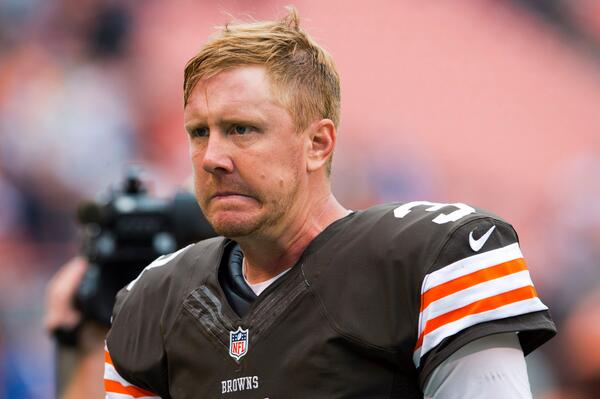 Follow along for Falcons-Steelers and Saints-Chargers, plus other updates from Sunday

Boldin, 36, is ranked ninth all-time in career receptions

Reed's toe is healed but can the oft-injured tight end stay healthy?
The Cardinals rookie safety might have a career in break dancing when he's done with the N...

All signs point to Lynch, the former first-round pick, not beating out Siemian in Denver

The NFLPA executive director comes out out firing in a 'Real Sports' segment