Brandon Williams: 'Sometimes, you got a little poop on you'
Before he was drafted by the Ravens in the third round, defensive lineman Brandon Williams cleaned portable toilets.
• 1 min read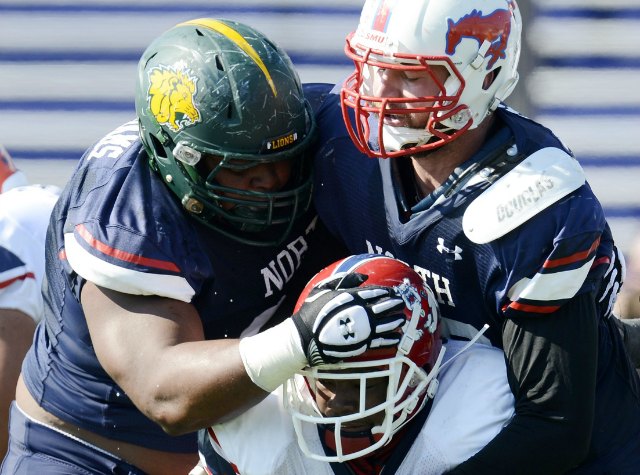 Whenever I'm at a downtown festival or in an airplane or at (I guess) a construction site and have to use the portable toilet, I sometimes wonder about the poor soul who has to clean up after us.
Who are these blue-collar workers who have to deal with all of our crap? What are their goals, their dreams?
Well, for at least one of them, that dream involved the NFL. Because one of them was Ravens third-round draft pick Brandon Williams, the former Division II Missouri Southern defensive lineman who worked his summer job last year as a portable toilet cleaner.
So, um, how was that?
"Sometimes, you got a little poop on you," Williams said, via the Baltimore Sun. "Every time I was doing that, I said to myself, 'I gotta work harder, I'm not doing this the rest of my life.' It motivated me to get better."
Well, sure.
When you have the chance to play in the NFL, you want to avoid dealing with other people's fecal matter as much as possible. But Williams also used the job to make himself stronger, pretending that he was manhandling offensive linemen as he wrestled the portable toilets onto his flatbed truck. He said he tried to make it fun -- which seems hard when part of your job description involves having to avoid other people's poop landing on you.
And while you should read the rest of Aaron Wilson's tome -- even if most of the rest of the piece is disappointingly poop-free -- we'll leave you with this fantastic quote from Williams' former coach.
Said Missouri Southern's Daryl Daye, "We like to say, 'Brandon is crap house strong.'"
Cutler's newfound enthusiasm in Miami may seem off-putting to some, but to him it's a new...

'Snacks' Harrison made a point to call out Browns fans on Twitter after the game

Martz unloaded on the Rams for hiring the youngest coach in the league
Jackson is deciding between Brock Osweiler, Cody Kessler, and DeShone Kizer

The Giants star receiver says he hopes his sprained ankle isn't serious after a scary hit Monday...

The Giants got a scare in the second quarter against the Browns