Brett Favre: I'm not worried about Packers fans booing me
So much for the Packers' explanation that they won't hold a jersey retirement ceremony for Brett Favre because of potential jeers.
• 2 min read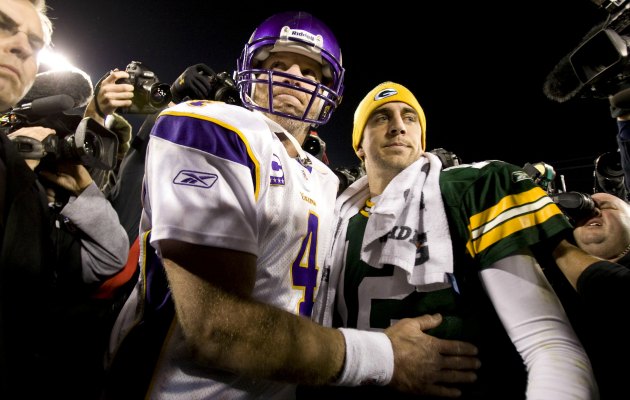 Brett Favre says he's not worried about boos. (USATSI)
More NFL: Photos |   Videos & GIFs |  Stories | Training Camps | Johnny Manziel watch 
The Packers are planning to retire Brett Favre's jersey number at some point soon, but earlier this month, president Mark Murphy said it wouldn't happen in 2014. And one reason is that Favre is worried about Green Bay fans booing him during the on-field ceremony.
"That is an issue. He doesn't want it, and neither do we," Murphy said. "He wouldn't want to come back and get booed. You can't control 80,750 people... [but] I really think as time goes on, every year that passes, it's less likely that he would get booed, but that is an issue."
Oh, funny thing about that explanation. Favre apparently is NOT worried about potential jeers.
At least, that's what he told ESPN 1000 on Monday.
"I've heard that was a concern of mine, and I'm here to tell you I'm not," Favre said Monday, via ESPN.com. "I'm not worried about that. I'm well aware that you can't please everyone. Not everyone's going to like you regardless, and you know what, so be it. But I think the 16 years that I had in Green Bay speaks for itself.
"Yeah, you're right, I have played with other teams, but I will be remembered as a Packer. I feel that. I think the true Packer backers, which there are tons out there, feel the same way. I'm not the first player to play for other teams or rivals."
Well, I'm not sure it's a question of signing with other teams, though Packers fans probably weren't pleased that Favre eventually played in Minnesota. I think it's more a question in some fan's minds about whether Favre stayed past his expiration date and, in the process, knowingly held back Aaron Rodgers from taking over the team.
Either way, Favre and Rodgers seem to have made up for whatever differences they had in the past, and it appears that the Favre-Packers relationship has grown healthier. So, at some point, it sounds like a jersey retirement ceremony will happen.
"In spite of what people may think -- and I really don't pay attention to what people are saying -- I just know the facts, and the facts are that I feel like the relationship is a good relationship," Favre said. "I've had contact with Mark Murphy on a regular basis in regards to how we're going to do this, the ceremony. Bob Harlan ... is working diligently. He's kind of spearheading the Packer Hall of Fame/jersey retirement ceremony, and I have been working with him diligently on getting this done."
Plus the Eagles' formula for winning late, the AFC playoff mish mash and a budding young Vikings...

Here are the Week 11 grades for every team that played Sunday

The Eagles move to 9-1 after beating the Cowboys by four touchdowns
Peterman threw five interceptions in the first half before getting yanked

The Vikings' coach addresses the team's cloudy quarterback situation after their eighth win...

Green Bay could have brought in a veteran quarterback but decided to stick with Hundley