Brett Favre is again a champion -- a 6A state champ in Mississippi
Brett Favre's newest career is a success. The Oak Grove High School offensive coordinator helped his team to a state title.
• 1 min read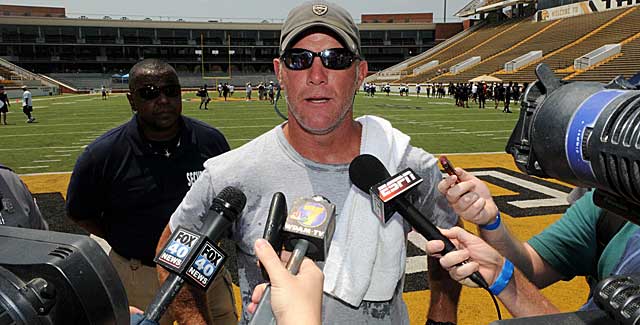 For those who are still concerned that Brett Favre might one day return to the NFL to give it another go playing quarterback, you probably shouldn't worry about it anymore. Favre, after all, is back in high school now and apparently doing quite well.
Favre actually is the offensive coordinator for Oak Grove High School in Mississippi, and on Friday night, the Warriors beat Tupelo 14-7 to win the 6A state title, Oak Grove's first-ever championship.
"I can't say it's like a Super Bowl, but it's pretty close," Favre said, via the AP. "It really is. It's a different type of feeling, but I couldn't be more proud of these guys. It's been a lot of fun."
Certainly looks like he had fun in this photo, courtesy of photo journalist Matt Bush.
@PineBeltSports Oak Grove celebrates after winning the Mississippi 6A state championship game. pic.twitter.com/Ps8k4Zc9YZ

— Matt Bush (@PhotoJouMATT) December 7, 2013
This actually is Favre's second season coaching the Oak Grove offense, and he was offered the job by head coach Nevil Barr, who allowed Favre to use the team facilities during his NFL offseason. From their friendship, Barr thought Favre and his enthusiasm would do well around the high school players.
"As strange as this may sound, he's just become one of the coaches," Oak Grove quarterback Kirk McCarty, who threw the game-winning touchdown pass on Friday after a fake field goal, told the AP in the leadup to the game. "He doesn't want special treatment and he doesn't get any. He's held to the same standard as everyone else."
Follow Josh Katzowitz on Google+
The son of a military veteran isn't backing down from his anthem protest, and the Seahawks...

The Lions are the latest Detroit team to have their logo co-opted by right-wing protesters

The linebacker underwent surgery after injuring his ankle in L.A.'s preseason opener
However, the relaxed rules would apply only to cleats worn before games

If his appeal fails, Elliott could take the case to federal court

The 34-year-old linebacker won't be leaving Carolina after the season