Brian Cushing to Jamaal Charles: 'Nothing but respect for your game'
Texans linebacker Brian Cushing appears to be taking his latest season-ending injury in stride.
• 1 min read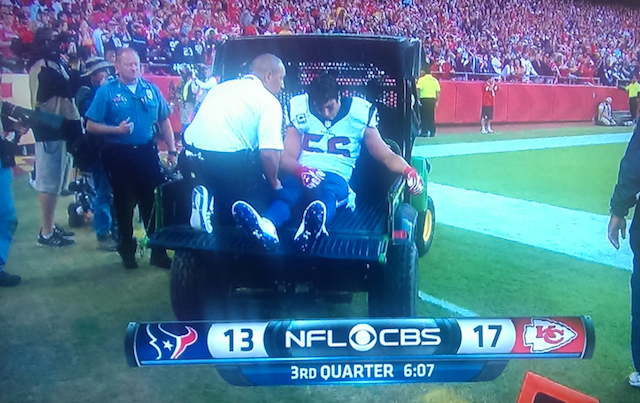 Though Texans linebacker Brian Cushing is out for the season again after tearing his LCL and breaking his leg following a block at the knees by Chiefs running back Jamaal Charles, Cushing AGAIN appears to be the definition of class when it comes to the opponent that caused his injury.
Last year after then-Jets guard Matt Slauson undercut him on a play that would have been illegal this season, causing a torn ACL, Cushing said afterward, "I got cut. I got cut on a run play. It happens. I was just keeping my head up. Whatever happens, happens. It's football. It's part of the game."
After Charles' front-side block Sunday, here's what the Chiefs running back had to tweet.
Wishing @briancushing56 a speedy recovery. Hate to see anyone get injured on the football field.

— Jamaal Charles (@jcharles25) October 21, 2013
And here was Cushing's response:
@jcharles25 appreciate you bro. I know you were just doing your job. Nothing but respect for your game.

— Brian Cushing (@briancushing56) October 21, 2013
For as disappointed as Cushing has to be knowing that he'll miss a large chunk of the season again because he was (legally) blocked at the knees, it's nice to know that he's gone out of his way two years in a row to let his adversary know that there are no hard feelings.
Follow Josh Katzowitz on Google+
Let's call it the Blair Walsh revenge game

Jeremy Lane also stood near Bennett along with pass rushers Cliff Avril and Frank Clark

Bennett also dedicated it to 'all of the other athletes using their platform to promote ch...
The Patriots quarterback shows commitment from Day One

Cardinals' running back says he's feeling more energized

The Vikings' receiver is wearing his heart on his foot