Brian Hoyer over Johnny Manziel is safe, for now, for Browns
It's easy to point to Johnny Manziel's one-finger salute for Brian Hoyer being No. 1 in Week 1 in Cleveland. But all coach Mike Pettine did was play it safe with a veteran who really has shown little more the headline-making rookie.
More NFL: Photos Videos & GIFs | Stories | Training Camps | Manziel watch
Brian Hoyer does all the things right.
Johnny Manziel is a jerk.
Brian Hoyer earned the right to start.
Johnny Manziel flipped it away.
Brian Hoyer is a leader.
Johnny Manziel is a me-first guy.
The dissection of why the Cleveland Browns named Hoyer their starter Wednesday morning for the regular-season opener vs. Pittsburgh has led to all of those as reasons why.
The reality is the Browns simply took the safe way out. Hoyer didn't play well at all against the Redskins on Monday night -- and he's a veteran. Manziel didn't play well either, and he's a rookie.
They chose the safe way. They took the guy who might give them a chance to win a game or two early, rather than the guy who could give them the chance to win in 2015.
I am not going to sit here and say Manziel was clearly the choice. He was Johnny Awful against the Redskins. But Hoyer wasn't any better.
I was certain after the Browns' preseason opener against the Lions, which I covered, that Manziel would be the opening-day starter.
I got that buzz from team sources.
The buzz died quickly.
Was it because he shot a bird to the Redskins bench? Not a chance. If anybody knows Browns coach Mike Pettine -- read the wonderful book "Collision Low Crossers: A Year Inside the Turbulent World of NFL Football," and you will -- that gesture likely would roll off his back.
In the team release to announce Hoyer would start, Pettine made a note about Hoyer's leadership skills. Some saw that as a shot at Manziel's one-finger salute because, of course, Hoyer would never do that as a team leader.
But if Hoyer doesn't play well, it won't matter. And if Manziel had played well, he could have fired off a 10 middle fingers in a row and it wouldn't have been an issue, either.
Players follow good quarterbacks, not bad ones. Have you ever seen a bad one who is a good leader? (Please don't say Tim Tebow).
This decision to start Hoyer was made because it was comfortable. It wasn't as risky.
Those decisions get coaches fired.
You can't have long-term success with safe at the quarterback position. It doesn't work.
You need magic. Not management.
Hoyer, at his best, will manage.
Manziel, at his best, will be magic.
Manziel has a long way to go to get there, as we saw against the Redskins, but if the Browns drafted him in the first round they clearly think he has a high ceiling. Hoyer's ceiling isn't as high, no matter how some spin it. That's why I always say you are what you are at quarterback.
What Hoyer has been is a journeyman. I know he did some good things last season before getting hurt, but is it sustainable? There have been other quarterbacks who flash for a time, then disappear and revert to who they are as players.
See Matt Flynn.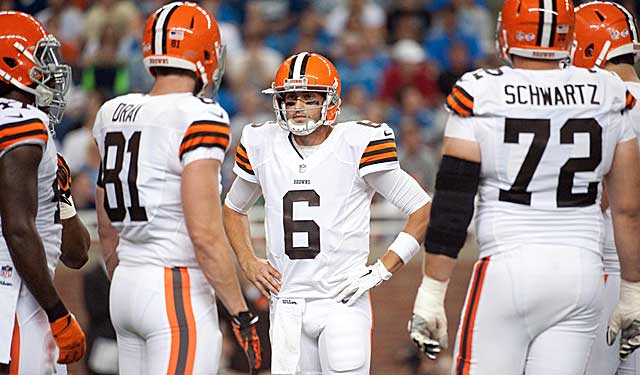 I wonder the same things about Hoyer. I keep hearing all this talk about how he's such a great team guy, too. That, from some of the things I've heard, isn't exactly as concrete as some in the media make it.
That's OK. But don't portray him as some locker-room leader, while Manziel is simply Johnny Party. Somewhere in between is the reality.
So Hoyer gets the nod for Pittsburgh, but he will do so looking over his shoulder after every mistake -- maybe even starting this week in the Browns' preseason game vs. St. Louis.
It's hard to play that way. He will find that out. It's only a matter of time before Manziel takes over.
You know it. I know it. The Browns know it -- and you can bet both quarterbacks know it.
Everything you need to know about the Redskins-Saints matchup this weekend

Here's every official injury designation for each NFL team for Week 11

The Dolphins took another blow amid a rough stretch of football
Our computer model simulated every Week 11 NFL game 10,000 times with very surprising resu...

The NFL on CBS broadcaster also broke down the differences between Dak, Goff and Wentz

The Legion of Boom is getting older and injuries are taking their toll