Bristol Co. Sheriff: Aaron Hernandez to be charged in jail fight
The Bristol County Sheriff's office filed a complaint against Aaron Hernandez on Thursday. The complaint is likely to lead to charges of assault and battery against Hernandez.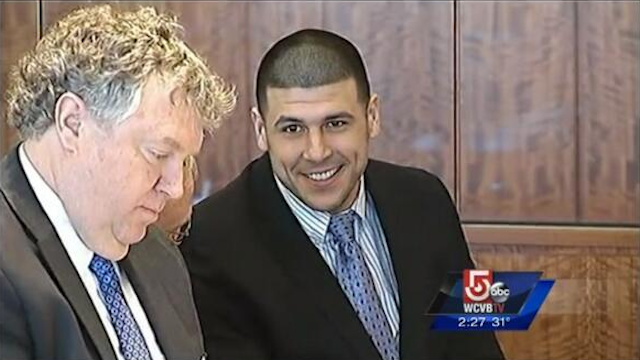 You can now add an assault charge to Aaron Hernandez's list of problems. The Bristol County Sheriff announced on Thursday his office has filed a complaint to charge Hernandez with assault and battery for the part he played in a Feb. 24 jail altercation, according to WHDH-TV in Boston. 
Bristol County Sheriff Thomas Hodgson had said that there would be an internal investigation into the altercation. After reviewing the incident, Hodgson said on Thursday that the other inmate won't be charged. According to TMZ,  Hernandez wasn't in handcuffs and he "beat the guy up pretty good." The other inmate was reportedly still in handcuffs during the altercation. 
"I can just tell you that there was, you know, an altercation that took place between Mr. Hernandez and another inmate. I can't get into really the details now that it's gone to this level of complaint," Hodgson said.
Hernandez was moved to an isolation unit at the Bristol County House of Corrections in late February. When he was moved, the sheriff's department said Hernandez would spend at least the next 30 days in isolation. 
Now that the sheriff's office has filed a complaint, the next move belongs to the clerk magistrate who will decide if the former Patriots tight end will have a hearing before a possible arraignment. 
Hernandez has been in jail since June 26 when he was arrested for his possible involvement in the death of Odin Lloyd. The 24-year-old is facing a total of six charges in the case, including a first-degree murder charge.
Hernandez is also facing at least four lawsuits. The former Patriots tight end is facing a wrongful death lawsuit in regards to Lloyd's death. Lloyd's family filed the lawsuit in December. Hernandez is also facing a lawsuit in Florida where a man has alleged that Hernandez shot him in the eye after an argument at a strip club. The families of two men shot to death in July 2012 have also each filed wrongful death lawsuits against Hernandez. 
Belichick has always had the magic touch, but some of his offseason moves might backfire on...

Week 6 in the NFL was filled with shocking results. Let's go that route with this mock dra...

After stops in Chicago and Philly, the NFL Draft is now headed to Dallas
The Browns remain a team without a franchise quarterback

Kaepernick filed a collusion grievance against the owners earlier this week

Mike Tierney, 34-13 on over-under picks since last season, has strong play on 'Thursday Night...