Broncos announce Peyton Manning will start at QB for the playoffs
Manning has gotten his job back from Brock Osweiler.
In a move that was pretty much exactly what was expected, the Denver Broncos announced on Thursday that Peyton Manning will be their starting quarterback for the playoffs. The Broncos' official website states that head coach Gary Kubiak met with Manning and Brock Osweiler to inform them of the decision before telling the rest of the team.
This was really Kubiak's only move. Once he brought Manning off the bench to relieve Osweiler during Week 17 -- whether the team won the game or not, which they did -- he basically boxed himself into using Manning the rest of the way. You don't replace the kid with the legend, only to then go right back to the kid.
But Kubiak was pretty much in a no-win situation here anyway. Unless the Broncos win the Super Bowl, his QB decision is going to be second-guessed. People can always allude to the hypothetical scenario where Kubiak went with the other guy and the Broncos won the whole thing. It's a fictional scenario, so it can't possibly be refuted, so Kubiak will have it hanging over his head no matter what unless the Broncos actually win.
But it's also probably the "right" move to go with Manning. (Or at least the one with the least amount of risk from Kubiak's perspective. The potential blowback of benching Peyton for Osweiler and losing is undoubtedly worse than the other way around.) Peyton hasn't been healthy all year and there's no way of telling whether or not we'll ever see the "real" Peyton Manning again, but the upside that he does find that stride is higher than what you can get with Osweiler, at least for now.
Brock earned a shot at the top job for the future with his play this season, but it wasn't so over-the-top excellent that moving back to Peyton for the playoff run is a non-starter, which is basically how he probably would have needed to play to keep Peyton on the bench.
Denver now awaits the lowest-seeded winner of this weekend's wild-card games. They can potentially face any of the Texans, Chiefs, or Steelers, but cannot play the third-seeded Bengals.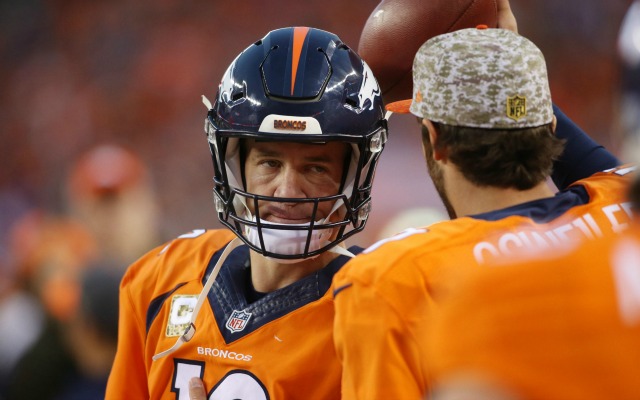 Baker Mayfield and Josh Allen took the field, but RBs and defensive front seven players stole...

Joseph cited Drew Brees when explaining why he's not concerned about the Oklahoma quarterb...

'She was dead serious,' Feely said
Place your bets, you proud and degenerate Americans

The Lions fired Jim Caldwell and kept some assistants in place, so Patricia is setting his...

Is there an NFL conspiracy that will help the Patriots win another Super Bowl? We investig...