Broncos coach John Fox will miss 'several weeks' for heart procedure
Broncos coach John Fox will undergo a procedure on his heart valve that will sideline him for several weeks, the team announced early Sunday morning.
UPDATE (11:57 p.m. ET): Denver Broncos coach John Fox, who was hospitalized for light-headedness Saturday in the Charlotte, N.C. area, will undergo a heart procedure and will miss 'at least several weeks,' the team announced in a statement issued just before 1 a.m. ET on Sunday.
"Head Coach John Fox will undergo an aortic heart valve replacement early next week at a Charlotte-area hospital. He will take a leave of absence from coaching for at least the next several weeks," the statement said. "Our focus at this time is Coach Fox's health and well-being. We extend our thoughts and well-wishes to him for a full and speedy recovery.
According to the Broncos, Fox had originally planned to have the procedure following the 2013 season. 
"Coach Fox was advised by doctors months ago that his defective aortic valve would require this procedure following the 2013 season. As part of his trip to North Carolina over the bye week, he had a preoperative appointment on Thursday with his doctor, who informed him to seek medical attention immediately if he felt any discomfort."
Two days after his Thursday appointment, Fox felt lightheaded while golfing in Charlotte and was taken to the hospital. 
"I sincerely appreciate all of the support from friends, Denver Broncos fans and so many around the league today," Fox said in the statement.  "Although I am disappointed I must take some time away from the team to attend to this pre-existing health condition, I understand that it's the right thing to do. I have great confidence in our coaches and players, who are fullly committed to our goals. I look forward to returning to coaching as soon as possible."
According to Fox Sports' Jay Glazer, a procedure on the defective valve will be performed on Tuesday in Charlotte. Fox will then remain hospitalized for at least two weeks following the procedure.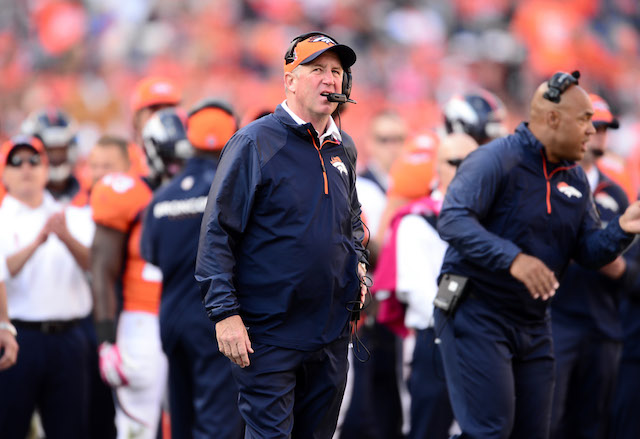 The 58-year-old Fox could be away from the Broncos for up to six weeks after the aortic valve procedure is performed, according to Glazer. ESPN's Adam Schefter has reported that Fox could miss up to two months. 
The Broncos coach had originally planned to have the procedure in February, according to Glazer. 
"It's something I've known I needed to take care of for a while. It's ironic this happened when I came to meet with the surgeon. I was hoping to wait but it's better to be smart about this," Fox said, via Glazer. 
In the mean time, both Glazer and Mike Klis of the Denver Post have reported that defensive coordinator Jack Del Rio is Fox's likely interim replacement. However, Klis did note that no official decision has been made on who the interim coach will be and the Broncos will most likely make that decision on Sunday. 
The Broncos are on their bye week and resume play at San Diego on Nov. 10. 
Previous post: Denver Broncos coach John Fox was taken to a North Carolina hospital on Saturday after feeling light-headed. The Broncos released a statement on the situation. 
"John Fox was taken to a Charlotte-area hospital after feeling light-headed while playing golf on Saturday. He is being held at the hospital for testing and further observation," the statement said. "Our medical staff is currently in contact with Coach Fox, his family and the doctors who are treating him. Additional information will be provided as it becomes available."
According to Patrick Smyth, the Broncos executive director of media relations, Fox is in good spirits and undergoing additional testing at the hospital. Fox's wife is with him at the hospital, reports CBS Sports Insider Jason La Canfora. 
The 58-year-old Fox was in Charlotte playing golf this week because Denver has a bye. The 7-1 Broncos don't play again until Nov. 10, when they travel to San Diego.
Brees is set to become a free agent next month but wants to stay in New Orleans

Gordon's various suspensions will once again prevent him from truly reaching free agency

The Colts traded for Brissett prior to the start of last season due to health concerns for...
Colvin was a big part of Jacksonville's defensive improvement but is likely moving on

Vinatieri is about to finalize a deal to return for his age-46 season

Freddie Roach is one of the most decorated boxing trainers there is