Broncos G John Moffitt retires
After only three seasons of football, Broncos guard John Moffitt has decided he's had enough football.
• 1 min read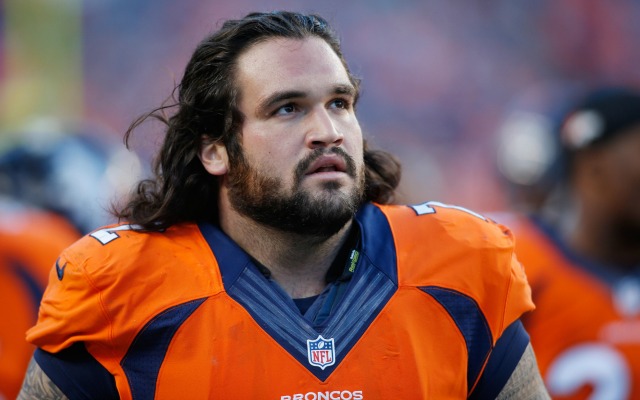 Though offensive guard John Moffitt was traded twice this offseason, he only played two games for the Broncos, and now, he's decided he's had enough.
Moffitt said he doesn't love football any longer, and therefore, he's retiring from the game.
"I just really thought about it and decided I'm not happy. I'm not happy at all," Moffitt told the Associated Press. "And I think it's really madness to risk your body, risk your well-being and risk your happiness for money."
"Everybody, they just don't get it and they think it's crazy. But I think what I was doing is crazy."
Moffitt, who lost out on a starting job with the Seahawks in the offseason before Seattle traded him to Denver, also made the announcement on his Twitter page with a shout-out to the NFL commissioner.
Football was fun but my head hurts-haha kidding roger goodell. I'm on to new things, thanks to everyone along the way!!!

— John Moffitt (@Moffitt74) November 5, 2013
With his decision, Moffitt leaves about $1 million in salary he was due this season and next on the table. Plus, his team seems destined to make a playoff run that could have landed Moffitt in a possible Super Bowl.
"I don't care about the Super Bowl. I don't," Moffitt said. "I used to. I mean, anytime I played this game, I gave my heart to it and I'm a person that does thing with his heart. ... I don't need the Super Bowl experience. I played in great stadiums and I played against great players. And I had that experience and it's enough."
As for the money he's leaving behind, the third-year player doesn't seem to care about that either.
"I've saved enough. It's not like I'm sitting here and I'm a millionaire," he said. "That's what I kind of realized. I'm sitting here and I got to this point and I was like, what is the number that you need? How much do you really need? What do you want in life? And I decided that I don't really need to be a millionaire ...
"I just want to be happy. And I find that people that have the least in life are sometimes the happiest. And I don't have the least in life. I have enough in life. And I won't sacrifice my health for that."
Follow Josh Katzowitz on Google+
Everything you need to know for Week 3 of the 2017 NFL season is here

The Jaguars are taking some cool cleats with them to England

Tickets are dirt cheap and very much still available for the TNF matchup
The Lions are being recognized after beating two popular preseason picks to make the playo...

Hernandez was 27 when he committed suicide in April 2017

Mowins is set to become the first female play-by-play announcer in NFL on CBS hisory