Broncos' Gase, Jaguars' Fisch among top 10 coordinators to watch
There's always going to be job openings in the NFL and teams are constantly tracking smart, results-oriented coordinators. Here are 10 assistants to keep an eye on.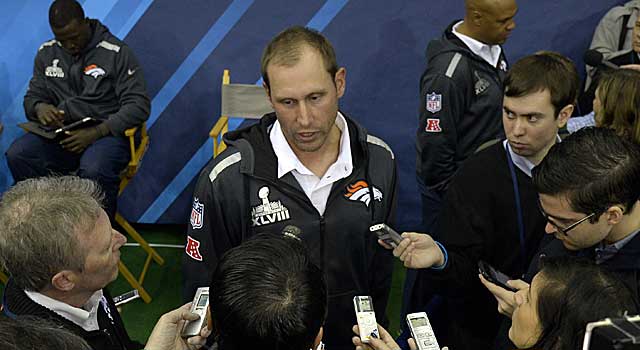 More NFL: Photos | Videos & GIFs | Training Camp updates | Manziel
In addition to Cincinnati Bengals defensive coordinator Paul Guenther, here are 10 coordinators I will be watching closely in 2014:
1. Denver Broncos offensive coordinator Adam Gase: He could have had the Cleveland job last year, but turned it down to stay and work another year with Peyton Manning . He is a smart, hard-working coach who gets nothing but high praise from Manning and the rest of the Denver players. If he's not a head coach in 2015, I will be shocked. He's that good.
2. Jacksonville Jaguars OC Jedd Fisch: He is a creative mind who was limited last year by the talent he had. With better players, look for him to do even more in terms of scheme this season. He is the perfect coach to help guide Blake Bortles when he becomes the starter.
3. St. Louis Rams defensive coordinator Gregg Williams: Williams is back running a defense, and he's doing it with good buddy, Jeff Fisher. They did some really good things together with the Tennessee Titans , including going to a Super Bowl. But this is Williams' first chance to run a defense since "Bountygate" and his year suspension. He can be arrogant at times, but he has a heck of a defensive mind. Look for the Rams defense to take a big jump forward.
4. New York Giants OC Ben McAdoo: He takes over for Kevin Gilbride running the offense. It will change in a big way. Gone are the seven-step drops that led to a lot of problems for Eli Manning . He will now throw shorter and quicker in the West Coast offense. McAdoo wants a completion percentage of 70 percent. Good luck with that, but Manning should be better getting the ball out.
5. Baltimore Ravens OC Gary Kubiak: The former Houston Texans coach comes over and brings his zone-running scheme, tight end heavy system to the Ravens. It will be interesting to see how well Joe Flacco adjusts to the offense. So far, it looks good. Kubiak is a bright offensive mind who just might be better suited to being a coordinator, rather than a head coach.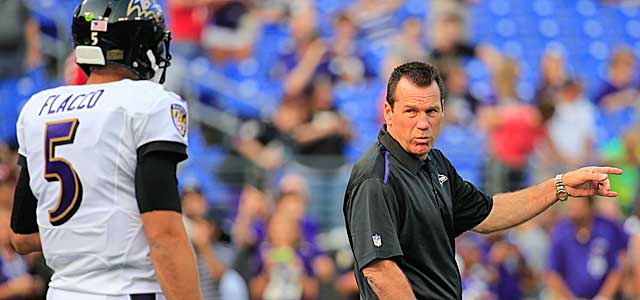 6. Bengals OC Hue Jackson: Jackson is a tough-guy coach who will instill that toughness in his offense. They will back down to nobody now. The former Oakland Raiders coach will bring more power football with big-chunk passing plays down the field. He will be a head coach again. Watch.
7. Arizona Cardinals DC Todd Bowles: He took over for Ray Horton last season and did a heck of a job with the Cardinals defense. They were sixth in total defense, seventh in points and first against the run. He has a talented group back, and has added some nice pieces in the offseason. He isn't afraid to come after the opponent, which I like.
8. Tampa Bay Buccaneers OC Jeff Tedford: He comes from college game to run Lovie Smith's offense in Tampa. This is his first NFL job, but Tedford is a bright offensive mind. He has weapons, but is the line good enough? Is Josh McCown ? It will be interesting to watch Tedford adjust to NFL defenses.
9. Detroit Lions DC Teryl Austin: He comes over from coaching the secondary for the Ravens to take over a Lions defense that was 20th in pass defense and 25th in yards per play. Austin's specialty is the secondary, and the Lions need it. They had big problems with their pass coverage last season. I hear good things about Austin from football people I respect.
10. Seattle Seahawks DC Dan Quinn: Quinn took over running the Seattle defense from Gus Bradley and did an even better job. Seattle was the top-ranked defense, one of the best ever, and was the big reason why Seattle won the Super Bowl. With another good season, Quinn will be a head coach next year.
The former Buccaneers kicker did not have things start well for him in Chicago

Bears special teams showed up in a big way against Arizona

Beast Mode got loose with Oakland and looked pretty impressive in the early going
Beast Mode was one of several players to sit during the Raiders-Rams game

The cleaning staff in Houston missed a couple of things while cleaning up after Super Bowl...

Marvin Jones had some serious fun in the end zone after scoring against the Jets