Broncos have depth, desire to live up to mile-high expectations
It's easy to see Peyton Manning's work ethic rubbing off on the Broncos. Pat Kirwan says Denver has the depth and the drive to live up to its mile-high expectations.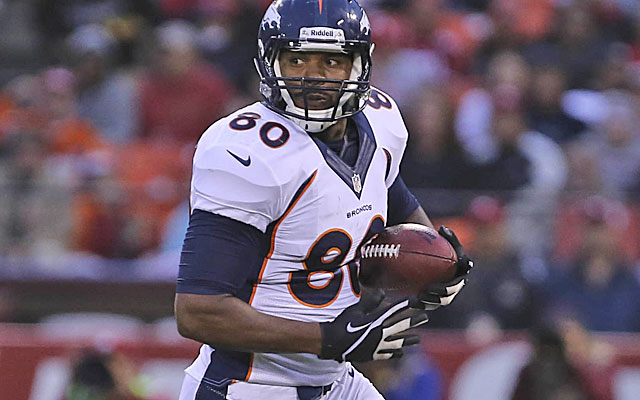 ENGLEWOOD -- Last year the Denver Broncos made one mistake in a playoff game to the Baltimore Ravens and lost the opportunity to go to the Super Bowl. It reminded me of the same slip the Brett Favre-led Minnesota Vikings made that sent the New Orleans Saints to the Super Bowl. The difference is Peyton Manning is back and more intense than ever while Brett Favre couldn't decide if he was going to play and showed up late for camp. This Broncos team is driven to get to the Super Bowl and has made significant improvements to complete the mission.
Last year Denver dominated the AFC West, winning all six games by an average score of 31-13. In division games, Manning threw for 16 touchdown passes and 1,816 yards and was only sacked eight times in 230 pass plays. Things look just as good again in 2013.
Things I heard or saw at practice
1. I watched the Broncos' version of the 'pistol' and can see how it will fit in with the offense. Just because Peyton Manning can't threaten the flank with the keeper off the running back ride doesn't mean it doesn't present a threat to a defense. Manning pointed out that putting the RB behind him makes it difficult for the defense to set their pressure call since the back can go either way. It also presents a run threat either way, something an offset back has trouble convincing a defense it can do. Don't be surprised if the Broncos get real creative with the package and you see a guy like Wes Welker behind the QB before the season is over.
2. Last year Manning convinced me his arm was strong enough to throw enough quality deep passes to keep defenses honest. At camp he was overthrowing wide receivers, and I saw a number of balls in the air that went over 50 yards. Manning said it was nice to not have to throw the perfect deep ball but launch some bombs the receivers could run under. Beware of the deep speed now.
3. The Broncos top two tight ends are on the sideline with injuries but the ripple effect of that problem is the emergence of former basketball player Julius Thomas as a big-time receiving threat in an already dangerous passing game. John Fox and Elway both love the receiving skills of Thomas, and Manning loves the way he works at his blocking and route running. Thomas may be operating as the third or fourth read in this offense, but he will have a few 10-reception days if teams fall asleep on this guy. I watched Manning spend a lot of time working on the nuances of the bootleg game with Thomas and he quickly adjusted to the recommendations from Manning.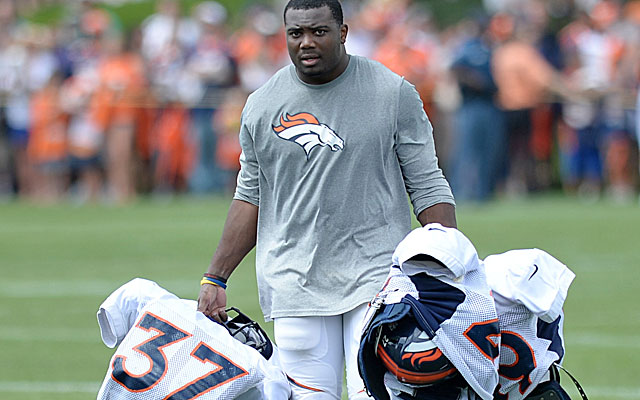 4. Demaryius Thomas is always open right over the top of his head. If I saw one throw I saw 10 thrown to Demaryius Thomas when Manning simply threw the ball slightly over the head of Thomas and he went up and caught most of them. I asked Manning about his passing game, and he said each one of these guys have a key spot they want the ball and Thomas is a leaper that can't be covered by the average corner.
5. What makes the Bronco linebackers unique is how many positions all of these men can play. Von Miller and Stewart Bradley told me they like the way Coach Richard Smith moves everyone around so they are capable of playing multiple spots. Stewart is competing for the middle linebacker spot but could easily play strongside (Sam). Wesley Woodyard can play all three spots and as well as Nate Irving . The Broncos could keep just five linebackers and be ready for any situation. Keep in mind that the Broncos already know they should once again play 65 percent of their defense in nickel or dime packages with reduced linebackers on the field.
6. With three weeks to go in the preseason, the Broncos could have injuries that quickly dissolve their quality depth, but if they stay healthy there will be quality players potentially cut or tradable at running back, tight end, wide receiver, and in the secondary. John Elway said the cornerback position is the deepest on the roster.
7. I really like to go to practice with little background about the young nondescript players on the roster and see who jumps out at me. The Broncos didn't disappoint as running back C.J. Anderson , cornerback Aaron Hester and safety Duke Ihenacho look like they belong on the active roster.
8. Ex- San Diego Chargers guard Louis Vasquez should have never been available as a free agent after watching him in a live practice. Assistant offensive line coach Alex Gibbs had a smile on his face watching Vasquez run block and, later in the day, pass block. Vasquez is a starting guard and the team will run the ball behind him, but he can also slide outside to right tackle if need be and play well enough to win.
9. Cornerback Chris Harris started 12 games last year and looks like a solid starter once again, but he could wind up at the nickel corner spot if Dominique Rodgers-Cromartie is the 4-deep starter. Harris told me he dropped five interceptions last year and couldn't care less about the four picks he had last season. He is working to not drop another pick and he spends time on the jugs machine getting it right.
10. John Fox loves to tell players that 'I don't pick the team you do.' This team is talking technique, mistakes and all the things to make them better during practice. Not every team operates on the practice field like the Broncos. It looks like the work ethic of Peyton Manning is rubbing off on the whole team.
Mike McClure, a DFS pro with more than $1M in winnings, gives optimal DraftKings and FanDuel...

Let's check in on the Giants a day after their loss to the Lions

Mike McClure has made over $1 million playing DFS and gives his best daily fantasy football...
The veteran linebacker is the franchise's all-time leader in sacks

It's unclear when Timmons, a free-agent signing in the offseason, will make his Dolphins d...

The 'Peanut Punch' is coming to the FBI