Broncos' John Fox: Goal is to be coaching before end of season
Denver Broncos coach John Fox said on Tuesday that his 'goal and dream' is to be back on the Broncos sideline before the end of the season.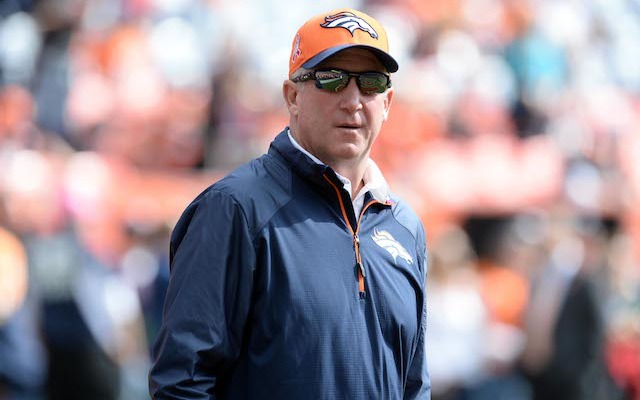 Denver Broncos coach John Fox is still in Charlotte, N.C., recovering from his Nov. 4 open-heart surgery, but his goal is to be in Denver soon -- as soon as he's medically cleared to fly -- and his ultimate goal is be on Denver's sideline before the Broncos regular season ends on Dec. 29.
"My goal and dream is to be there (on the sideline) before the conclusion of the season," Fox said on Tuesday during a conference call with Denver media, via the Associated Press. 
Returning to the sideline before the season's over may be a lofty goal, but if anyone can do it, it's probably Fox. The Broncos coach pointed out that not only is he healthy now, but he was released from the hospital after only four days. Most patients who undergo aortic heart valve replacement surgery are hospitalized for five to seven days.  
"I'm very, very healthy," Fox said. "I was out [of the hospital] in four [days]. So, this isn't due to poor lifestyle, not being healthy, too much stress, not enough stress. This is basically something I was born with that I needed fixed. I think the quick recovery speaks to what great shape I'm in."
A problem with Fox's heart was discovered in 1997, but he wasn't told until this year that surgery would absolutely be necessary. Fox called the problem a 'birth defect' and said that his heart issue had nothing to do with the pressures of coaching. 
"Sure, there is some pressure and stress involved in coaching," Fox said. "But I think a lot of people out there in Denver, in this country, really around the globe, have very pressure-packed jobs. I think our military comes to mind maybe as one of those that I don't think coaching compares to. So, it wasn't the pressure of coaching or any kind of thing."
Fox made national headlines on Nov. 2, when it was reported he had suffered a heart attack on a Charlotte golf course. What really happened is that Fox became dizzy because his heart valve was almost completely closed. "I was receiving very little blood to my body," Fox said. 
The Broncos third-year coach then described his experience on the golf course, "I don't know if you've ever passed out before, but you feel it overcoming you," Fox said. "Basically you get tunnel vision and you try to fight it off. I hit two shots, a chip shot and a putt that I can truly tell you I don't remember every little part of it. Then I had to sit on the ground and actually lay on the ground. I never really passed out, but you're fighting passing out. And I hit two golf shots in the middle of it."
Although Fox said he would like to be back on the sideline before the Broncos regular season ends, he didn't offer any timetable for his return. 
"I can just tell you that I'm working very hard to get better and I feel like my doctors are pleased that I've improved every day," Fox said. "So things are going great. I like where I'm at right now and we'll see where that leaves us."
In the mean time, interim coach Jack Del Rio will handle things, including Denver's Sunday night showdown with undefeated Kansas City in Week 11. 
Mike McClure, a DFS pro with more than $1M in winnings, gives optimal DraftKings and FanDuel...

Let's check in on the Giants a day after their loss to the Lions

Mike McClure has made over $1 million playing DFS and gives his best daily fantasy football...
The veteran linebacker is the franchise's all-time leader in sacks

It's unclear when Timmons, a free-agent signing in the offseason, will make his Dolphins d...

The 'Peanut Punch' is coming to the FBI