Broncos LB: Our defense is 'the greatest ever,' better than 1985 Bears
Did the 2015 Denver Broncos field the best defense in NFL history?
Thanks to Denver's dominating Super Bowl win over the Carolina Panthers on Sunday, we can finally close the book on the argument of which team has the best NFL defense ever.
Well, I'm not going to close the book, but the Broncos are. After Denver's 24-10 win in Super Bowl 50, several Broncos defensive players came out and made their opinion clear: The 2015 Broncos fielded the best defense in NFL history.
"In my opinion, we're the greatest defense to ever play the game. Ever," linebacker Brandon Marshall, via the Denver Post. "It's a bold statement, but top to bottom we have the greatest talent -- from rushers to safeties to linebackers. Better than anybody's ever done it."
The Broncos didn't just dominate the Super Bowl, they pretty much dominated every team they played all season. Not only did the Broncos rank No. 1 in total defense (283.1 yards), pass defense (199.6) and sacks (52), but they were also top four in three other categories: No. 3 against the run (83.6), No. 3 in defensive touchdowns (5) and No. 4 in points allowed (18.5 points per game).
They also held Carolina, which had the NFL's top-scoring offense (31.3 ppg), to just 10 points.
"We proved we're the No. 1 defense," defensive end Derek Wolfe told the Denver Post. "If you ask me, or anybody on this defense, we're the best to ever do it."
Linebacker Danny Trevathan, who tied a Super Bowl record with two fumble recoveries, put his team's defense just slightly ahead of the 1985 Bears.
"You're going to ask me? No. 1. No. 1 in my opinion, over '85 Bears," Trevathan said, via NFL.com. "If not No. 1, No. 2. I feel like we did a good job playing our games. It wasn't ever pretty, but when you put it in our defense's hand we always come up with that win."
CBS Sports senior NFL writer Pete Prisco took an inside look at the Broncos defense after the Super Bowl and wrote that the Broncos might be the new gold standard for modern NFL defense.
But are they the best ever?
Let's not say yes, because we're all going to need something to argue about this offseason.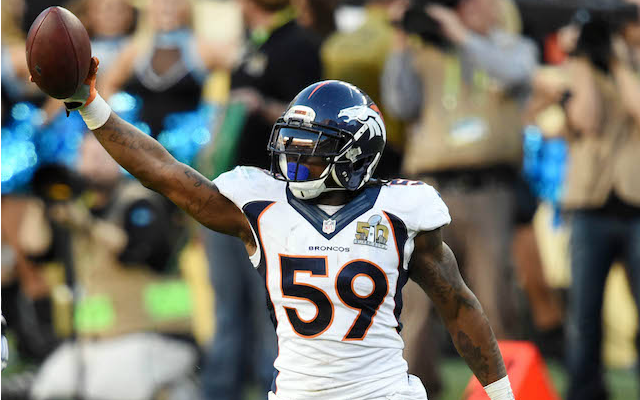 After an injury to Trevor Siemian, Brock Osweiler entered the game and helped the Broncos to...

The 32-year-old running back is done for the year

Brandon Williams was involved in a scary situation in the first half against Denver
The Broncos are turning back to Osweiler after an injury to Siemian

The Cowboys legend admits he's not on 'great' terms with the Cowboys suspended running bac...

Here's the latest information on injured Steelers linebacker Ryan Shazier