Broncos LB Von Miller beefing up support system with parents
With Von Miller in the news these days for all the wrong reasons, the star linebacker is bringing his parents in to live with him for support and guidance.
• 1 min read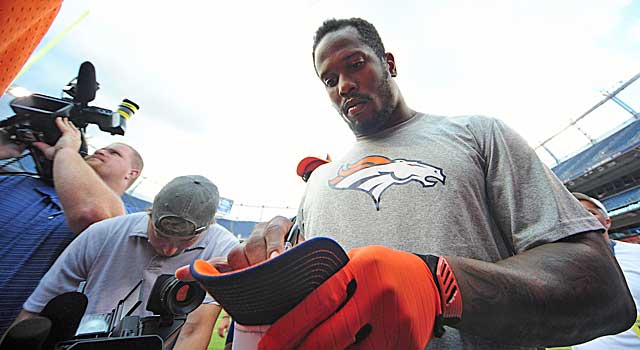 Denver star linebacker Von Miller aims to return to the team following his six-game drug suspension a more mature, responsible individual, according to sources close to the player, including having his parents move in with him in Denver.
Miller has become a media target following his suspension and his recent issues with speeding, and should he fail another drug test or have irregularities with his sample and follow every part of the program's strict protocol, he would be facing a season-long suspension. To that end Miller's parents have moved in with the third-year player shortly after his suspension came down, and the Broncos plan to have a team employee work directly with Miller on a daily basis making sure he is coordinating his time wisely, and working with the player's representatives closely.
Miller isn't seen as a bad kid by any stretch, but clearly he has issues with maturity and responsibility. He's been known to show up to the wrong meeting at the team facility or show up late despite being inside the facility, with details sometimes slipping his mind. For lack of a better word, team officials will babysit him more closely and ensure Miller understands that things many would take for granted -- like traveling outside of the state without first notifying the NFL -- he cannot do. Due to the stage of the drug program he is in, all such trips must be cleared first so that Miller is able to potentially be drug tested.
Miller immediately established himself as one of the premier pass rushers in the NFL upon entering the league as a first-round pick, but his recent indiscretions could restrict his ability to re-work his team-friendly entry-level contract. However, the Broncos remain very high on him, sources said, and will take a more proactive approach to try to keep him on a straight path.
It had been rumored that the Jaguars might cut ties with Bortles, but instead he'll stay in...

Dez has struggled with injuries over the last few seasons

Cohen started last season red-hot before falling off dramatically but he has a ton of tale...
Beckham got injured during the 2017 preseason and then fractured his ankle after just four...

The Eagles were one of the most aggressive teams in the NFL in 2017, and it helped them win...

The ex-Dolphins offensive lineman was detained over a threatening social media post