Broncos likely to talk extension with John Fox this offseason
Currently one of the more underpaid coaches in the NFL, John Fox and the Broncos are likely to talk extension this offseason, Jason La Canfora reports.
• 1 min read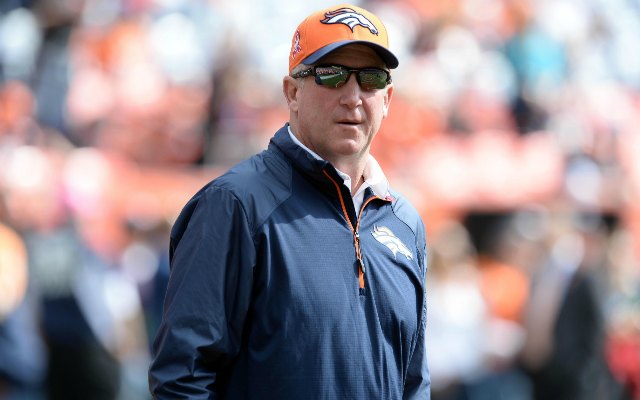 For more news and notes from Jason La Canfora, tune into The NFL Today Sunday at noon ET on CBS.
Getting coach John Fox extended is a top offseason priority for the Denver Broncos, according to team and league sources, and those talks have been tabled to the offseason, with both sides optimistic a deal could be struck to secure his long-term future there.
Fox, with Peyton Manning at quarterback, reached the divisional round in his first season there, losing a heartbreaking game in overtime. The Broncos are poised to be the AFC's top seed this season, and the chemistry between Fox and the John Elway-led front office has been great, with both sides hopeful to extend it. Obviously, should the Broncos fulfill their hopes and win a Super Bowl, Fox's position would only further strengthen, and he is in excellent health now having recovered from a heart procedure conducted earlier this season.
Fox came to Denver after the Panthers bottomed out, with him signing a four-year deal worth roughly $3.5 million per season. That's on the lower end of the coaching scale, especially for established coaches, and, at the time Fox arrived, the Broncos were also still on the hook for significant amounts of money due to past coaches, like Josh McDaniels.
The NFC is going to be a blast to watch down the stretch, but don't sleep on the Patriots'...

The Dolphins just created a serious shock in the AFC and MVP races by beating the Patriots

With their 2017 season basically over, it's time for Texans fans to turn their attention to...
Now 10 different players have intercepted Tom Brady multiple times in one game

Brady lofted it between two defenders and Lewis snatched it with one hand