Broncos, NFL execs under microscope following recent arrests
NFL players are held to strict standards, but is there a double standard when team execs break the law? Jason La Canfora says the Broncos should've made an example of Tom Heckert and Matt Russell.
• 6 min read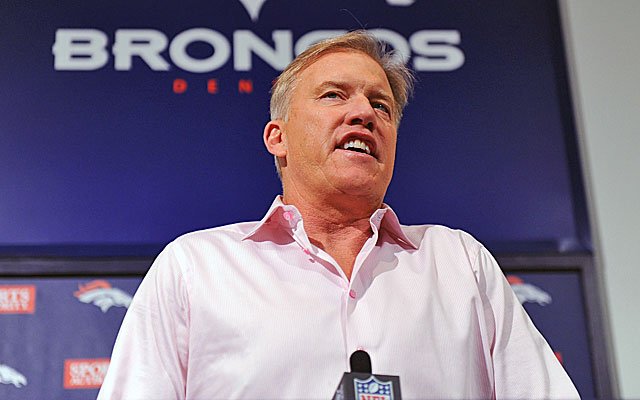 We are so quick to define a franchise by the actions of a few players.
The Seahawks have an Adderal problem. The Cowboys have a DUI problem. The Patriots have a character problem.
But that's far too simplistic. Lest we forget who wields the real power in the NFL, who holds the hammer in the collective bargaining agreement with the players, and who should truly be setting the example in terms of character and staying on the right side of the law. It's management.
They're the decision-makers, the same men who gossip and blindly ridicule kids coming out of college. The men who ask players if their mothers were prostitutes, or if they are gay; and hold youngsters to Roger Goodell's personal conduct policy to which these very coaches and executives run afoul of.
Never underestimate the degree of hypocrisy of which the NFL is capable. And make no mistake, in the aftermath of the Denver Broncos having two top execs arrested on DUI charges in a shockingly small period of time -- and with equally shocking reported levels of alcohol in their systems -- the players, the NFLPA and other teams are watching to see if Goodell responds appropriately. And by appropriately, I mean with the same vigilance and severity with which he has disciplined players.
"Roger has to come out strong here," said an exec with one AFC team. "No matter what the team does, he has to send a signal here. This has to be more than what he gave (Lions president Tom) Lewand." (Goodell suspended Lewand 30 days and fined him $100,000 after his DUI, then lessened the suspension to 21 days).
It turns out Goodell let the Broncos, which consulted with the league, dole out the punishments. Matt Russell (director of player personnel) was suspended indefinitely, and Tom Heckert (director of pro personnel) was suspended for one month. 
What isn't quite as shocking is that this happened in Denver. There have been whispers about what some other execs have termed "a frat-house culture" in the Broncos front office, and about some of the off-field decisions those men have made, both now and in the past.
The fact that the Broncos knew about the original DUI, from Heckert, and chose to say or do nothing about it, until it was revealed by the Associated Press after the arrest of Matt Russell speaks much more deeply than any of the tough-talking statements released by the team after the fact.
That reeks of a cover-up. Coming out and letting everyone know that Monday, team officials are gathered at Broncos headquarters deciding how to handle this situation rings a bit like a PR grab, after that fact.
It wasn't that long ago that the Cowboys were burying Jerry Brown, who died in a car driven by drunk teammate Josh Brent. Is it too much to ask men who are in their 40s, and have been around the NFL for quite some time, to not drive around with open containers in their cars, as police allege in their report, and to not get into the driver's seat of their cars at three-times the legal limit?
We're so quick to point the finger at players. But let's keep in mind there are thousands of them in the league, with disparate backgrounds and level of means, education. There are only 32 college scouting directors and general managers, however, and when you factor in the nepotism and cronyism that run rampant in this league, it makes getting those positions increasingly difficult. There are too many good men and good execs on the golf course now, unable to get back in, to tolerate this kind of behavior.
When teams offer a second, third or fourth chance to those with checkered pasts, it sends a distinct signal to others on the outside who bear no such blemishes, but maybe don't play the political game as well, don't have as powerful an agent, or don't have the same connections or benefactors making sure they land on their feet.
John Elway, the Broncos boss, gets more kudos and awards than pretty much any NFL executive these days, but these blights are on his hands and on his watch. He recast this entire front office in his image, kicked aside some like former general manager Brian Xanders who helped him learn the personnel game, and now, with his team in Super Bowl or bust mode, must explain why several members of his inner core can't uphold the modicum of behavior that Goodell demands.
This is his distraction, and he must now figure out how to convey to his locker room why the men charged with picking the team and running the team and deciding on the very futures of these players can't keep from running into patrol cars in their free time. Elway, whose transparency and candor was so refreshing when he launched on to the management scene on Twitter and elsewhere, should have taken to his account, or some public forum, upon Heckert's arrest.
And for all the accolades that come their way, this is the same front office that found a way to let a still-impactful Elvis Dumervil get away to the Super Bowl champs, a Baltimore team that ended the Broncos' season. And as much as they will blame Dumervil's former agent and blame a fax machine, this is a guy with 50 sacks who had a new deal worked out with Denver and who then, as a free agent, took less money to go to Baltimore. That's on Elway.
They drafted Brock Osweiler over Russell Wilson. (Yes, a lot of teams passed on Wilson, but the Broncos spent considerable time researching quarterbacks leading up to the 2012 draft). They gave Drayton Florence $1.5 million guaranteed, only to cut him shortly thereafter. Their decision to pay Champ Bailey more than $10 million this season will certainly be watched closely.
No one's perfect, or expected to be, and make no mistake, Elway has done some special stuff in a short period of time -- most notably, convincing Peyton Manning to come to Denver, a short-term gamble based on grabbing a Lombardi quickly. But let's also keep perspective about this regime and recognize that their biggest challenge, and most important decision, is upon them now. That task? Finding a way to properly discipline their top employees and address the perception circulating among their peers that they are a front office out of control.
The Broncos sent a fairly strong message with the 30-day suspension of Heckert and the indefinite suspension of Russell. They did not, however, break new ground in what the commissioner doled out in the past and it remains to be seen if both are back by, say the middle of the preseason, which could be the case.
Having those personnel execs in place by the time major cutdowns are made would be imperative for the front office as they scan the waiver wire and set their own roster. Russell was seen as a rising star there and Heckert has former GM experience. At any rate it seems both could be back for the start of the season.
Heckert could lose compensation due him by the Browns, his former employer, based on his suspension as well.
The NFL was satisfied with the team's handling of the situation and no additional discipline will be forthcoming, the league said.
Patriots QB's ring, given to one of his friends/family members, was auctioned off to an anonymous...

If the Redskins get petty, Cousins will try and get his vengeance through a grievance

The Dolphins also donated $100,000 to the victims' fund after the school shooting that killed...
The Cardinals GM explains his process for finding Carson Palmer's successor

Stefen Wisniewski narrowly missed out on a chance to earn $250K, but the Eagles gave it to...

Shazier heads into the Steelers' facility every day and helps with 'personnel stuff'