Broncos OC Adam Gase emerging as hot young coaching candidate
Having gained the trust of Peyton Manning, Broncos OC Adam Gase is emerging as the next big name in the coordinator ranks, and a possible head coach candidate.
• 1 min read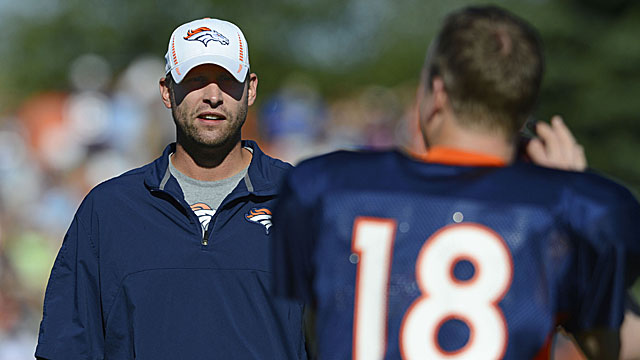 For more on the rise of Adam Gase and other NFL news and notes from Jason La Canfora, tune in to The NFL Today on CBS at noon ET. 
With Peyton Manning on a record-setting pace and the Broncos offense flourishing, young coordinator Adam Gase has a rising profile, and his time in that role might not extend beyond 2015. His resume is impressive and, though just 34, some GMs believe he will get overtures for head coaching interviews in 2014 should the Broncos continue this tear, though 2015 may prove to be his sweetspot to land a job.
Gase earned the respect of Manning last season as his quarterbacks coach, after a bit of what some team sources described a feeling-out process. By the time former Broncos coordinator Mike McCoy left to become head coach in San Diego, Manning strongly endorsed Gase for a promotion, and that came together quickly. This season Denver's offense is on an even better pace, and Gase may be on a rise similar to what young coordinator Josh McDaniels experienced working with Tom Brady in New England.
Gase's coaching roots go back to Alabama coach Nick Saban -- deeply respected in NFL circles -- and he's spent time on the scouting side, developing talent-evaluation skills, and has also worked with coaches like Mike Martz, and Steve Mariucci. Gase was a key part of McCoy's staff when the Broncos managed to reinvent their offense on the fly and went to the playoffs with Tim Tebow in 2011, and, as receivers coach, he helped cull career years out of guys like Brandon Lloyd.
 With so many coaches fired in recent years, there hasn't been time for a new crop of young "It" coordinators to develop in terms of coaches getting head coaching interview requests for the first time, but Gase seems on his way to joining that list as long as Manning is throwing the ball in Denver.
Everything going the Chiefs way on Thursday Night Football

Beast Mode went Beast Mode on someone he shouldn't have gone Beast Mode on

This is how you do a 99-yard touchdown drive
This may or may not have been pass interference

That sort of sounds like the nickname of a certain NBA MVP

Cam Newton decided not to take part in his mandatory press conference this week