Broncos OC Adam Gase will be a no-brainer choice for head coach
At the Broncos' joint practice with the Texans, it's clear that Adam Gase has the makings of a head coach in the not-too-distant future.
• 6 min read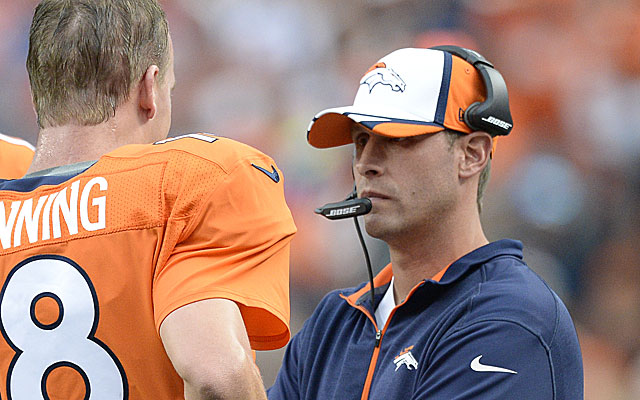 ENGLEWOOD, Colo. -- Adam Gase looks the part of an NFL head coach. And by early 2015, he most certainly will be.
The Denver Broncos' offensive coordinator -- already hotly coveted a year ago and one the brightest young offensive minds in the game -- put aside his future career aspirations and the teams desperate to talk to him (Cleveland chief among them) to focus on Denver's Super Bowl run.
It would be no surprise to see the Broncos challenging for a Lombardi Trophy again deep into the winter, but I have a hard time believing Gase is not running his own team shortly after Denver's season ends. The demand will be too high, and while another year of working with Peyton Manning and perfecting his offensive scheme made plenty of sense in 2014, just watching Gase operate closely for the past few days during joint practices with the Texans leaves the impression he is very much a head-coach-in-waiting.
Gase is intense and driven during practices, he isn't afraid to get fired up and make sure that a Broncos team that went about shattering most significant offensive records a year ago maintains an edge. Players told me he is as driven as ever, still fuming over the Super Bowl loss to Seattle, and is anything but complacent. His compassion -- Gase was truly devastated by the ACL tear suffered by receiver Jordan Norwood on Wednesday and spent time consoling the young man as soon as he was informed of the injury -- has endeared him to players as well. They know that regardless of his age (36) he can't be run over or hoodwinked.
The respect and admiration he has earned from Manning is well known around the league, and Manning, who has a strong relationship with Browns owner Jimmy Haslam, was no small part of the reason why Haslam was so driven to land Gase a year ago, leaving the job unfilled for a long time in hopes he might change his mind. Manning's report to Browns ownership on Gase was so strong, league sources said, that Haslam was on a mission to get him.
Gase has become at ease with the media. I stood back and watched his briefing with the local media on Wednesday and you could tell Gase was growing more comfortable with the give and take, revealing some personality, doling out information without going to the point of compromising his team in any way, seeming to enjoy the give and take. He didn't fear the camera and wasn't awkward in any way. The intense media experience of Super Bowl week had been good for him, and he was personable and patient even when the same question was repeated three times.
He looks like a coaching no-brainer, with the full endorsement from the likes of Nick Saban, who gave him is start, and Manning. It's obviously unknown at this point whether Manning himself will be playing in 2015, and regardless, Gase's apprenticeship days are nearing their end.
On average six to eight head coaching jobs change every season, and with the Cowboys and Dolphins among just a few places with coaches who could be under fire in 2014, and this league becoming increasingly dominated by the offense, I suspect Gase will have his pick of suitors come January.
He looks ready now. He'll be even more prepared by then.
More observations
• The Texans are downplaying the significance of the injury suffered by first overall pick Jadeveon Clowney on Wednesday, with coach Bill O'Brien saying he is "fine," but offering no specifics. O'Brien was noncommittal on whether Clowney would play, but the club is couching it as a minor setback.
Thursday's session was mild and short, in shells on a beautiful day, after a more spirited full-pad practice on Wednesday that Clowney did not complete. He did not appear to be laboring heavily, and was not in need of immediate medical attention, either.
While Clowney's time in these practices was limited, he certainly did enough to make an impression.
"He definitely has that speed, the long arms and leverage to be effective in this league," Broncos star left tackle Ryan Clady said, "and be in this league for a long time."
• The Broncos are still trying to get over Norwood's injury -- they were expecting big things from him -- but got good news when receiver Emmanuel Sanders returned from his injury and participated in practice. They were getting a little short at the position -- Wes Welker is still out -- and Norwood had been a chief beneficiary of the additional reps.
"Felt really good today," Sanders said. "I didn't have a problem with [his quad], so I'm extremely happy about that of course."
With it unknown how Welker will hold up through another season taking a beating in the slot, Norwood had emerged as a key cog in the slot himself, and valuable insurance. The team was running some four-wide stuff with the hopes of having Welker and Norwood in the slot, and, in their absence, dabbled with Demaryius Thomas in the slot during these sessions. Norwood was also a key to the return game, and the team could be looking for someone to fill that role as players are cut around the league.
"I'm very disappointed for him," Broncos coach John Fox said of Norwood, "and at this point for us, selfishly."
• Overall, these sessions did not get nearly as heated as some of the other joint practices I attended and several times players from the other team gave back pats or helped up the opposition. Aside from some jawing at the end of Wednesday's practice and the occasional hand to the face, the vibe was decidedly positive.
"It was great competition," O'Brien said, himself noting the sense of sportsmanship as well.
• Not sure how much, if anything, we'll see of Texans stars Arian Foster, Brian Cushing and Andre Johnson on Saturday night. O'Brien wasn't overly excited by the need to play them -- all missed significant portions of the offseason either through injury or otherwise -- and all received a decent amount of work in these three practices. With them picking up, by O'Brien's estimation, over 150 snaps in the three sessions with the Broncos, it lessens to need to expose them as much in the preseason game.
• Defensive tackle Marvin Austin is generating a buzz in this Broncos camp. Would not be surprised at all if he makes an impact in 2014. They have bolstered the front seven significantly by all appearances and Aqib Talib is earning raves as well.
Broncos staff though Talib was the toughest corner they played against last season, and with him locking down the opposition's top receiver and with DeMarcus Ware coming off the edge, and big bodies like Derek Wolfe, Terrance Knighton and Austin upfront, I would anticipate this unit to make some significant gains. Look out for end Quanterus Smith as well; he's opening some eyes and this team could use multiple pass rushing options.
• Enjoyed watching the spirit and passion Mike Vrabel brought to coaching the Texans linebackers. He coaches the same way he played. Vrabel obviously knows Texans coordinator Romeo Crennel well from their time together in New England and he was very hands-on and specific in working with the unit on technique. Vrabel looks like he could still play a few snaps if need be.
Everything you need to know about the Packers-Panthers game on Sunday afternoon

The Lions will be wearing their Color Rush uniforms for the first time on Thursday

The Lions look to maintain playoff positioning while the Bears attempt to play spoiler
The Panthers have hired an outside law firm to conduct the investigation

Here's every official injury designation for each NFL team for Week 15

Bennett was one of the few players who escaped punishment after Sunday's melee in Jacksonv...