Broncos players call out selfish Cam Newton: He plays for himself
A few Broncos players were questioning Cam Newton's Super Bowl effort.
SANTA CLARA, Calif. -- The final nail in the Carolina Panthers' Super Bowl 50 coffin came in the fourth quarter on Sunday.
With just over four minutes left in the game, Cam Newton dropped back to pass, but before he could get a throw off, Newton's right arm was hit by Broncos linebacker Von Miller, which caused a fumble.
Von Miller causes Cam Newton to fumble pic.twitter.com/t6I1FA4rj0

— arcusD (@_MarcusD_) February 8, 2016
The Broncos ended up with the loose ball, which was almost a miracle because it looked like Newton was in the perfect spot to recover it. Instead of going after the ball though, Newton appeared to avoid DeMarcus Ware.
Von Miller likely seals the Super Bowl MVP by stripping Cam Newton yet again #SB50 pic.twitter.com/9YJajATPMu

— The Cauldron (@TheCauldron) February 8, 2016
During the aftermath of the Broncos' 24-10 win, plays like that left at least two Broncos defenders questioning Newton's effort.
Broncos linebacker Danny Trevathan basically called Newton selfish. "That's the way he is. Playing for himself," Trevathan told MMQB.com.
Broncos defensive back Aqib Talib agreed, saying, "He didn't want it."
No one was celebrating Newton's downfall more than Talib after the game.
"There ain't no Easter Bunny, there ain't no Santa Claus, there ain't no Superman," Talib told the Broncos' official website.
In a separate interview with a Canadian television station, Talib said Newton was probably tearing up in his press conference.
"Cam's probably crying right now," Talib said, via TSN.com.
Trevathan said his team flustered Newton by keeping pressure on him all game.
"Our defense came out there and got after him," Trevathan said. "We never let him get comfortable back there. He made some passes, but he was never comfortable." 
Newton was sacked a total of six times in the game. The Panthers quarterback didn't exactly defend himself in his postgame press conference, either. After several questions, he just got up and walked out.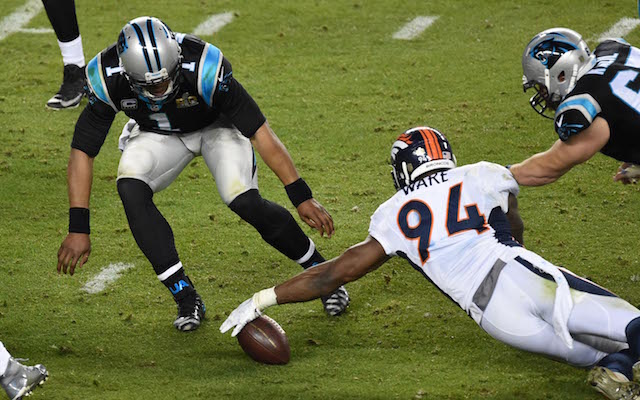 Baker Mayfield and Josh Allen took the field, but RBs and defensive front seven players stole...

Joseph cited Drew Brees when explaining why he's not concerned about the Oklahoma quarterb...

'She was dead serious,' Feely said
Place your bets, you proud and degenerate Americans

The Lions fired Jim Caldwell and kept some assistants in place, so Patricia is setting his...

Is there an NFL conspiracy that will help the Patriots win another Super Bowl? We investig...