Broncos QB Peyton Manning doesn't practice Wednesday
A few days after suffering an ankle injury, Broncos quarterback Peyton Manning didn't practice Wednesday.
• 1 min read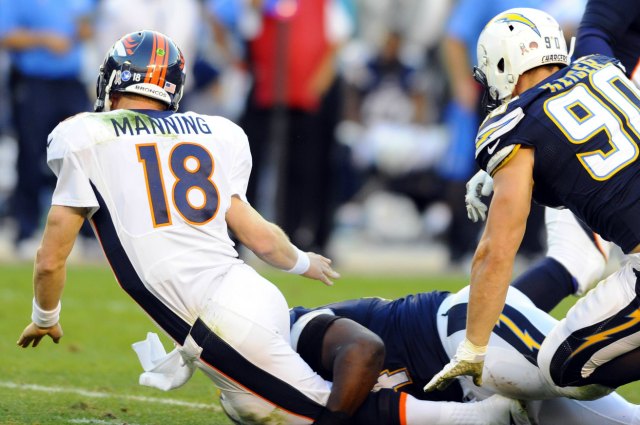 Late in Sunday's victory over. the Chargers, Broncos quarterback Peyton Manning was hit low on a legal hit, and though he stayed in the game until its completion, it was revealed afterward that he had sustained an ankle injury.
After an MRI on Monday came back clean, it was reported that Manning "absolutely" would play this Sunday against the Chiefs in their all-important AFC West showdown.
On Wednesday, though, came an ominous sign: according to reports from multiple Broncos beat writers, Manning wasn't practicing.
Now, what does this mean? Probably nothing. And really, it makes sense that Manning would have an extra day or two to rest his ankle sprain. In fact, it would have been more surprising if Manning did practice than not.
But Broncos fans probably would feel better if Manning was actually taking reps and showing the world his ankle isn't that bad.
I doubt this changes Manning's chances of playing Sunday, but it also isn't a totally comforting sign.
Or ...
Peyton not at practice. Deep breaths, Denver.

— Judy Battista (@judybattista) November 13, 2013
Follow Josh Katzowitz on Google+
Could Janet Jackson make an appearance with Justin Timberlake at Super Bowl LII?

In case you weren't positive that the president has a fixation with the NFL, here's the statistical...

Payton emphasized screw-on cleats -- and the Saints rewarded him with a win
The Texans starting left tackle lost out on millions during his lengthy holdout

It's Matt Moore time in Miami for the time being after tests confirm Cutler's cracked ribs

The fog was clearly part of Bill Belichick's diabolical plan to beat the Falcons