Broncos QB Peyton Manning says cold-weather critics can shove it
If you don't think Peyton Manning can play in cold weather, then you can shove it where the sun don't shine.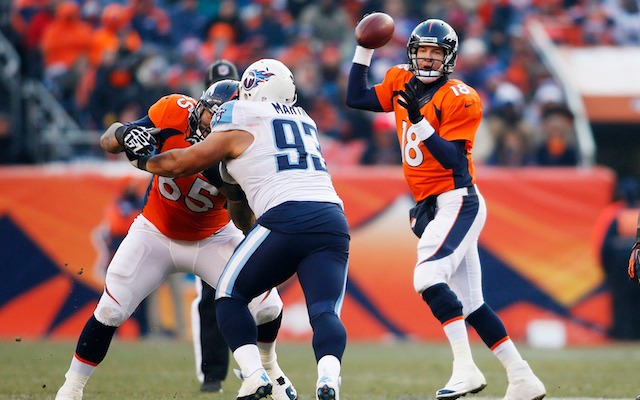 Apparently Peyton Manning can play in cold weather. In the Broncos 51-28 win over Tennessee, Manning threw for 397 yards and four touchdowns despite the fact that the temperature was under 20 degrees at kickoff.
After the win, the usually mild-mannered Manning had some words for anyone who thinks he can't play in cold weather, "Whoever wrote that narrative can shove that where the sun don't shine," Manning told KOA-AM in Denver. 
Manning was asked earlier this week if he thought he was less effective in cold weather and he said he didn't think that was the case. However, some people do think that, and Titans coach Mike Munchak seemed to imply it on Wednesday when he said cold weather would be better for the Titans "The worse the weather, probably the better for us. Hopefully it's a big snowstorm and it will give us a great chance to win," Munchak said.
Instead, Manning went out and led the Broncos to over 50 points for the third time this season and set several records in the process. The Broncos 515 points is the most through 13 game in NFL history and breaks the franchise-record for most points in an entire season. 
Manning's four touchdown passes in the game give him 45 for the season, tying Aaron Rodgers for the fifth highest single-season total of all-time. Patriots quarterback Tom Brady holds the NFL record with 50 touchdown passes. 
The win over the Titans moves Manning's record to 11-12 when the temperature is under 40 degrees at kickoff. For more on how Manning plays in cold weather, be sure to check out our in-depth look at Manning's history in cold weather. 
The Browns rookie quarterback is expected to see some first half playing time against the...

The president has something in common with Vladimir Putin

The Seahawks are trying to beef up their offensive line with George Fant out
Tom Brady had an interesting Sunday

Cutler's teammates rave about his arm and football IQ but can he keep playoff hopes afloat...

Odell Beckham broke all the rules for watching the solar eclipse on Monday