Broncos QB Peyton Manning: You have to be 70 to have a legacy
Peyton Manning didn't want to talk about his legacy at media day on Tuesday and that's mainly because he doesn't think you should be talking about legacies until your 70.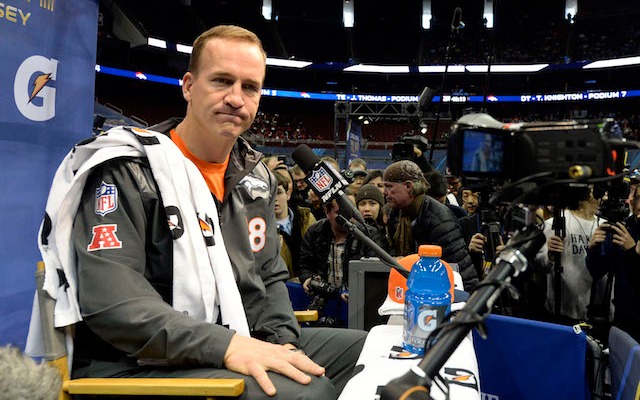 More SB coverage: XLVIII odds | Expert picks | Super Bowl weather | Latest news
Broncos quarterback Peyton Manning isn't ready to talk about his legacy just yet, but if you check back with him in 33 years, the 37-year-old might be ready to talk. At Super Bowl media day on Tuesday, Manning said legacies are for old people. 
"I've been asked about my legacy since I was 25 years old, which I'm not sure you can have a legacy when you are 25 years old, or even 37," Manning said. "I thought you had to be 70 to have a legacy."
Manning's legacy has been a hot topic this week. If the Broncos beat the Seahawks in Super Bowl XLVIII on Sunday, Manning would become only the 11th quarterback in NFL history with multiple Super Bowl wins. He'd also become the first quarterback in NFL history to win a Super Bowl with two different teams. 
Even though Manning's on the brink of history, he's still mystified by all of this legacy talk. 
"I'm not 100 percent sure what the word even means. I'm down the homestretch of my career, but I'm still in it. It's not over yet. It's still playing out," Manning said. "This has been the second chapter of my career, and it is an exciting chapter. I'm certainly excited to be back in the Super Bowl."
Manning has already made two trips to the Super Bowl in his career and he's gone 1-1 in those appearances with Indianapolis. The Colts beat the Bears 29-17 to win Super Bowl XLI. The second time around, Manning and Indy lost to New Orleans 31-17 in Super Bowl XLIV. 
It was a major story this offseason -- and that will be the case next offseason too

Bills: Keeping Cardale Jones would be disservice to the young quarterback

The Patriots coach jokes that reporters in press room are a 'pretty talented group of eval...
The Browns need a quarterback and Kizer is doing his part to win the job in training camp

A day after John Harbaugh wouldn't rule out signing Kaepernick, the team went with someone...

Gruden, who won a Super Bowl following the 2002 season, last coached in 2008