Broncos S T.J. Ward accused of throwing mug at strip club bartender
T.J. Ward is scheduled to be in court on June 23 after being accused of throwing a glass mug at a female bartender at a strip club in Colorado.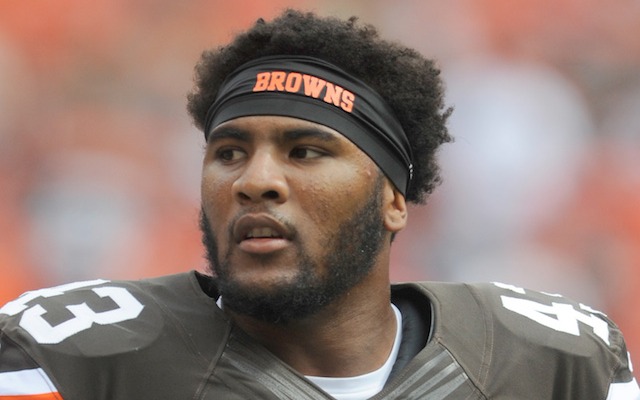 When police in Denver issued a warrant for T.J. Ward's arrest on Thursday -- charging him with misdemeanor assault and disturbing the peace -- there weren't many details available on why the warrant was issued. Now there are. 
According to a police report obtained by the Denver Post, the warrant was filed because Ward allegedly threw a glass mug at a female bartender who was working at strip club in the early morning hours of May 10. 
The bartender told police that she told Ward he would have to discard a glass bottle he brought into the strip club because outside food and drink aren't allowed on the premises. The bartender then told security to tell Ward to take the glass bottle outside. 
A few minutes later, Ward went back up to the bar and ordered a non-alcoholic drink. After ordering the drink, Ward poured something from his glass bottle into the drink he had just ordered. The bartender then took the drink from Ward and poured it out. At that point, Ward allegedly threw the glass bottle at the bartender, striking her in the wrist. 
Police went back to the strip club on May 16 to watch the surveillance video and noted that they saw a man, believed to be Ward, throw a glass mug at the bartender. 
The warrant was dismissed on Friday, according to the Denver Post, because it was mistakenly issued by police. However, when Ward appeared in court on Friday, he was given a ticket and ordered to appear in court again on June 23. A $1,900 bond was also set for Ward. 
The-27-year-old's legal troubles come before he's even played a down with the Broncos. Denver inked Ward to a $23 million deal in March after the Browns chose not to re-sign him. 
It appears Kizer has taken the lead over Brock Osweiler in the Browns' QB competition

Bell seems like he's going to show up nine days before the start of the season

Welcome to the NFL's version of a dress rehearsal
It sure sounds like the players are planning for a work stoppage when the latest CBA expir...

One of the league's best players is still looking for a new long-term contract

'It's completely different,' Wentz says about entering his second season with the Eagles