Broncos storylines: What happens if Von Miller is suspended?
The Broncos are a Super Bowl contender, but there are some hurdles to clear, starting with what happens should Von Miller be suspended.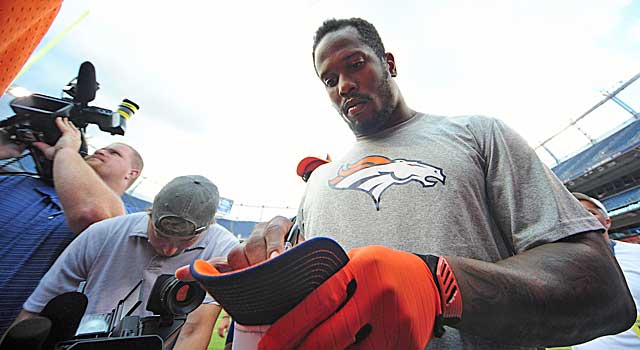 ENGLEWOOD, Colo. -- With training camps in full swing, one overall storyline has not changed: The Denver Broncos are among a handful of consensus Super Bowl favorites. Before the Broncos reach the New York Super Bowl, they have to work through a few storylines of their own, starting with the availability of their best defensive player.
Top Broncos storylines
1. Von Miller 's possible suspension: Denver's top pass rusher is facing a four-game suspension for a drug issue. Miller told me he isn't focusing on that, even though a decision is coming to this week. It will hurt the club if he loses his appeal, but it's not the end of the world in Denver. Former Chargers LB Shaun Phillips , who can rush the passer, was acquired in the offseason to back up Miller. I asked Broncos exec John Elway about his four-man rush in the first month of the season (potentially without Miller) and Elway liked Phillips, Robert Ayers , Derek Wolfe , and maybe Malik Jackson . Rest assured, if Miller is not on the field, defensive coordinator Jack Del Rio can create pressure on the quarterback.
2. Will Welker get his catches? Some wonder how Wes Welker will get his standard 100 receptions in an offense that has Demaryius Thomas (94 receptions in 2012) and Eric Decker (85 catches). It's simple, Welker gets the 45 receptions Brandon Stokley got and half of the tight ends' 98 receptions and just like that he's close to his 100. Also helping: I expect Peyton Manning to throw the ball 600 times this season.
3. Injuries at tight end: Last season, the tight ends caught 98 passes, but both are injured. Jacob Tamme (quad) and Joel Dressen (knee surgery) are very capable tight ends but not available. All may not be lost at this spot because emerging rookie Julius Thomas shows promise.
4. Offensive position battle: Running back -- There a lot of good backs on this team -- so many that Elway can't keep them all. Ronnie Hillman is holding off rookie Montee Ball for the time being. Knowshon Moreno came through last season when injuries plagued this team and is a 1,000-yard back if he were a full-time starter. Rookie C.J. Anderson and Jeremiah Johnson have looked good in camp (I doubt Denver gets Anderson to the practice squad without someone claiming him), and Lance Ball easily makes a number of teams if cut.
5. Defensive position battles: Safety -- Rahim Moore 's gaffe cost the Broncos a shot at the Super Bowl, but he is having a solid camp -- though Quinton Carter is right behind him. The strong safety battle is heating up with Duke Ihenacho getting first-team work, pressing Mike Adams . You have to wonder where Quentin Jammer figures in the final equation. Middle linebacker -- It was assumed Nate Irving would be the starter after D.J. Williams left for the Bears, but free agent pick up Stewart Bradley is giving Irving all he can handle.
6. Keeping a healthy center: First, the Broncos lost starting center J.D. Walton (ankle) but he may be back in November or December, according to the front office. Then backup Dan Koppen (knee) was put on the IR list. So I came to camp worried about the situation at center. Ryan Lilja was coaxed out of retirement, and that's a good thing. But I was impressed with Manny Ramirez at practice. He can be the center for a championship team, or at least until Walton gets back.
7. Developing Osweiler: Last year was The Peyton Manning Show, and rookie QB Brock Osweiler was a fill-in when Manning was tired. A year later, Osweiler looks like a real candidate to be developed and potentially replace Manning when he retires. One coach on the sideline at practice said, "Osweiler has made a quantum leap in one year."
8. Manning's arm strength: Manning can throw a deep ball when he wants to. He convinced me of that during practice. So you can bet Decker, Thomas and even Andre Caldwell will be at the end of a few bombs a game.
9. Rookie report: It's difficult for a rookie to break into this lineup, but two first-year players will make an impact. Ball will be in the RB rotation. DT Sylvester Williams will be in the DT rotation, and will play even more when he learns to get off the ball better.
10. Where they end up: This is a top contender for a Super Bowl run -- 12 regular-season wins is realistic and 13 is possible.
Welcome to the NFL's version of a dress rehearsal

It sure sounds like the players are planning for a work stoppage when the latest CBA expir...

One of the league's best players is still looking for a new long-term contract
'It's completely different,' Wentz says about entering his second season with the Eagles

Tavon Austin, Matt Kalil and Joe Flacco headline our list of the NFL's most player-friendly...

Richardson has played for four NFL teams, and hasn't appeared in an NFL game since 2014