Broncos to sit Peyton Manning as Brock Osweiler will start in Week 11
Peyton Manning will meet the bench this week.
One day after playing arguably the worst game of his career, Peyton Manning has been benched by the Denver Broncos. Coach Gary Kubiak announced on Monday that Brock Osweiler will be the team's starter for this Sunday's game at Chicago. 
"Peyton is not going to play. Brock is going to play this week," Kubiak said, via the team's official website. "I've got to do what's best for the team."
Kubiak was asked how Manning reacted to being benched and according to the Broncos coach, the veteran quarterback wasn't happy. 
"I've never met a player who agreed to that," Kubiak said. 
This is the second time in 24 hours that Manning's been benched. The Broncos quarterback was pulled from the game in the third quarter on Sunday after throwing four interceptions in a 29-13 loss to Kansas City.
Manning had tried to play against the Chiefs despite the fact that he had injuries to his foot, rib cage and shoulder going into the game. CBS Sports NFL Insider Jason La Canfora reported on Monday that Manning "aggravated a partial tear in his plantar fascia [foot]" that he originally suffered against the Colts. 
Manning's injuries were so bad that Kubiak said he probably shouldn't have started Manning in the first place.
"I was worried about him," Kubiak said after the loss. "I'm disappointed in myself, this is on me. I probably should have made a decision not to play him in the game. I needed to make probably that tough decision there." 
As for Manning, he didn't regret playing in the loss. 
"If you look back on it now, I have a hard time saying that's why I played badly," Manning said on Sunday. "Could that be the reason? I guess it always could be. But to me, that's an easy way out. That's kind of an easy line to say after the fact."
Manning definitely played like he was injured against the Chiefs. Although Manning did break Brett Favre's NFL record for most passing yards in the game, Kubiak was forced to bench him in the third quarter after Manning threw four interceptions.
Manning finished 5 of 20 for 25 yards in the game, which came out to a career-low 0.0 QB rating. After Manning was benched, Osweiler came in and threw for 146 yards and a touchdown. 
Osweiler will be making the first start of his four-year career. The former second-round pick has been sitting behind Manning on the depth chart since he was drafted in 2012. 
As for Manning, this Sunday will mark the first time in his career that he misses a start in a season where he plays. The only other time Manning misses a regular season start was in 2011 when me missed all 16 games in his final year with the Colts. 
Kubiak said on Monday that Manning's "total focus" will be on rehabbing all of his injuries. The 39-year-old quarterback won't practice this week and won't dress for the Broncos game against the Bears.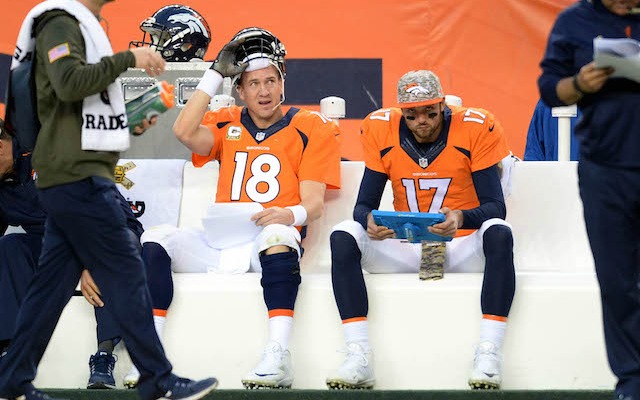 He'll reportedly appeal the suspension

Rodgers is eligible to return after eight weeks and the Packers reportedly aren't giving up...

The Packers think the hit is dirty, but the NFL apparently disagrees
Here's every official injury designation for each NFL team for Week 7

If it wasn't already clear, the Packers are not happy with the hit that injured Rodgers on...

Passengers were treated to some explicit chants from the Oakland running back, too